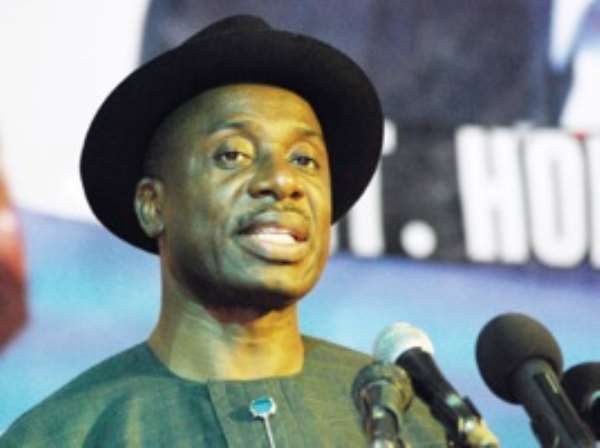 The Rivers State chapter of the Peoples Democratic Party, PDP, has accused Gov Chibuike Amaechi of playing politics with the development of the State. The party came up with this against the resistance by Gov Amaechi and his stress call on the Federal Government to hands off the renovation of a number of Secondary Schools which it said are State owned.
Berating Amaechi for trying to fritter away this rare opportunity of giving post-primary institutions in the State a face-lift by the Federal Government, the PDP in a statement signed by the Special Adviser on Media to the State Party Chairman, Jerry Needam, said Gov Amaechi should rather be grateful to the Minister of State for Education, Chief Barr. Nyesom Wike for attracting Federal Government presence to the State.
Since all lands according to the Land Use Act belong to the Federal Government, the PDP notes, there is therefore nothing wrong if same Federal Government decides to use any portion of it for development purpose let alone standing in where the state government has failed.
The Party said the impression being created about the condition of the Federal institutions in the State by Amaechi is political and a misrepresentation of facts, stressing that Federal Government's impact on all the federal institutions comprising both the Federal Government Girls Colleges, Port Harcourt and Abuloma as well as the University of Port Harcourt are there for all eyes to see as they speak for themselves.
The party cited gigantic libraries with modern state-of-art facilities in the two colleges as well as befitting structures for the law and social faculties of the University of Port Harcourt etc.
For verification purposes, the PDP challenged Gov Amaechi and his cohorts to a facility tour of these institutions to prove its claim.
It would be recalled that the Government Girls School, Ogu, in Ogu/Bolo Local Government Area of the State abandoned by the Amaechi administration for years as a political witch-hunt has just been taken over by the Federal Government and the foundation stone layed over the weekend by the Minister of State For Education, Chief Barr Nyesom Wike to the chagrin of Gov Amaechi.
Signed:

Jerry Needam
Special Adviser, on Media to
State PDP Chairman, Bro. Felix Obuah
Tuesday, September 16, 2014.