16 September 2014
|
General News
Roads and Highways Minister calls CFAO to assemble heavy duty equipment in Ghana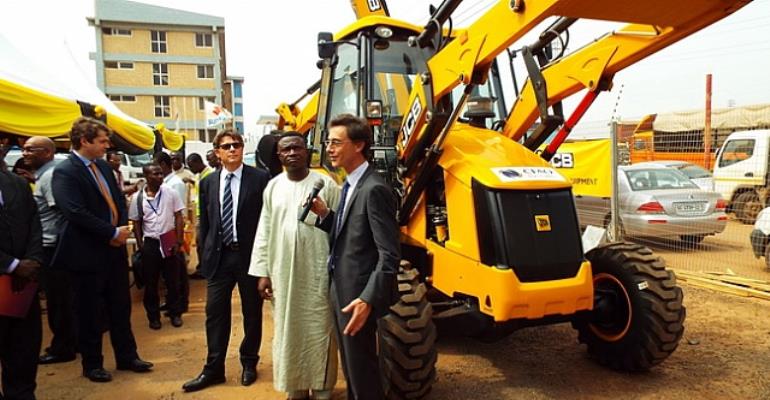 The Deputy Minister of Roads and Highways Isaac Adjei Mensah has appealed to the management of CFAO Ghana Ltd to assemble heavy equipment in Ghana to make it easily accessible to contractors.
He said this will bring affordability and quality that can go a long way to contribute immensely to the growth of the road construction sector.
The Minister made the appeal when the company unveiled JCB Backhoe Loader at the company's office in Accra.
He commended the management for introducing
CFAO Ghana ltd Equipment, the sole authorized dealer of Mitsubishi vehicles and Citroen introduced  the multipurpose machine to save customers  resources  is being  described as money making machine due its super active and efficiency .
The company  is set to embark on an exciting investment roadshow in three (3) regions of Ghana, in an effort to promote and educate contractors, entrepreneurs and the general public on the value and relevance in investing in their Backhoe Loader.
The six (6) day event which is set to hold in Tema-Accra, Obuasi-Kumasi and Tarkwa -Takroadi will start with a roadshow through the prinicipal streets of each region, followed with a special investment lunch seminar for stakeholders at the CFAO office premises in each of the Regions. 
According to the Executive Director of CFAO Equipment, Mr.Bruno Gobilliard, the whole idea for the major event is to educate contractors and mainly entrepreneurs to see the JCB Backhoe Loader as a mega investment machine, which guarantees the buyer a 100% profit in just two (2) years
Mr.Najib Rashid a businessman who purchased the JCB Backhoe Loader in 2013 is excited about his purchase and sees it as one of the best investment decisions he has ever taken.
 A backhoe, also called a rear actor or back actor, is an excavator that has a digging bucket at the end of a two-part articulated arm. This is often mounted on the back of a tractor or front loader.
It also comes in all shapes and sizes and each range is specially designed for certain market sectors from agriculture, ground care and construction to industrial and waste removal machinery.
According to Mr.Gobilliard the road show and Investment lunch seminar will also afford existing clients and stakeholders the opportunity to know and learn about the new design of the machine and its features and also to get the opportunity to discuss with industry experts better ways of improving their construction operations.
"In today's competitive world of construction, contractors are facing a lot of challenges to maximize their productivity and lower their operating cost and the seminar serve this purpose, he added.
Earlier this year, CFAO EQUIPMENT in partnership with Societe Generale launched a financial solution to entrepreneurs to afford the famous JCB machine with one year maintenance. The customers were afford opportunity to make as low as 20% down payment and spread the remaining balance over one year. At the end of the lease, the customers had full ownership of the machine.