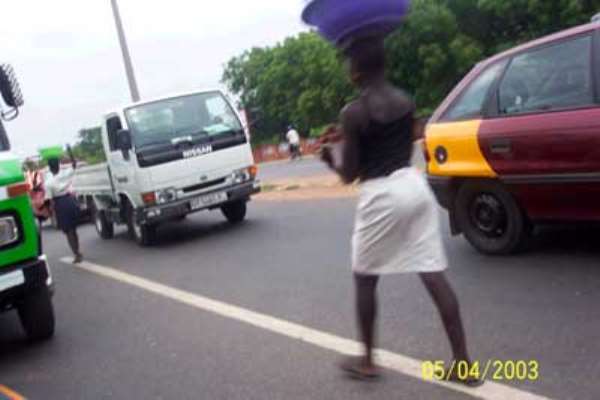 ACCRA, Ghana -- Motorists navigating this West African capital must dodge marauding goats, street hawkers, and teenagers directing traffic with palm fronds during blackouts. But a new government initiative to curb rising traffic fatalities, the first focused effort since independence, has identified a larger threat to road safety: fellow drivers.
Ghana has failed to control the chaos common to African roadways. Government officials say motorists regularly zip past red lights, travel at twice the speed limit, and obstruct their windshield with decorative hangings. Tailgating is considered a national right.
So last September, this relatively orderly nation moved to quell civil war on its roadways, instituting the first written test for new drivers in its history. Testing, underway in four major cities, will spread countrywide this month.
''Drivers don't regard the rules of the road," said Joe Osei-Owusu, chief executive of the Driver and Vehicle Licensing Authority. ''They just can't be bothered."
The written test, a rarity in the region, includes 30 multiple-choice questions about car mechanics, road courtesy, and traffic regulations. Previously, 18-year-olds were required only to identify basic road symbols and pass a driving test.
Officials are also seeking to strengthen law enforcement, asking Ghana's Parliament to create a dedicated traffic police unit with the authority to demand immediate payment for violations. Tickets are widely ignored, and often go untracked by the country's overburdened court system.
The Road Traffic Bill follows a World Health Organization study in April that calculated an annual 1.2 million road fatalities worldwide, with 90 percent occurring in the developing world.
Ghana's efforts, however, are not without controversy or local critics. So far, of 9,733 applicants, about half have failed the exam, said Kafui Semevo, assistant director of the Driver Licensing Department. Questions about passing on hills and slow driving during the rainy season, modeled on a similar South African exam, have befuddled applicants.
The $2 test is available in all local languages, and is administered orally for illiterate applicants -- up to 60 percent of the population. But the high failure rate has sparked criticism of its difficulty, and the Progressive Transport Owners Association, a local truckers union, is formally protesting. The subject elicits frequent griping on radio call-in shows.
Road conditions remain poor, with stretches of major highways practically impassable. On rural roadways, cars not besieged by beggars and chewing gum salesmen face potholed dirt paths, dotted with chickens and sputtering ''tro-tros," decades-old vans overloaded with passengers and luggage. Officials are also failing to promote drivers' education. Despite two public training programs, run by foreign oil companies and the State Transportation Corp., women still make up 90 percent of driving students.
The country, however, has made progress in reducing traffic fatalities, though accidents spiked in the first quarter of this year. A $160,000 public education campaign against speeding and drunk driving, begun last September, has decreased road fatalities to 27 deaths per 10,000 vehicles. That number, still 14 times higher than in the United States, exceeded 73 deaths per 10,000 in 1996.
''It's getting safer," said Jon Appiah, of the National Road Safety Commission, which created television and radio ads and a curriculum for public schools. ''We wish we had started this 10 years ago."
By Benjamin Gedan, Globe Correspondent Views expressed by the author(s) do not necessarily reflect those of GhanaHomePage.