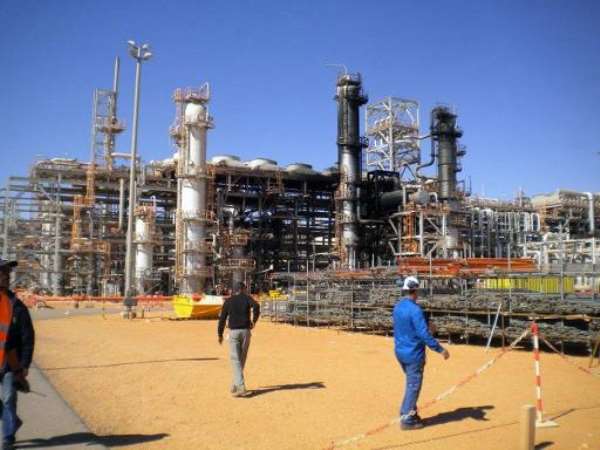 A gas plant in In Amenas seen on January 31, 2013, when it was opened to the press for the first time after dozens of foreigners were killed during a four-day standoff. By (Jiji Press/AFP/File)
London (AFP) - Relatives of the British workers killed in the Islamist siege of the In Amenas gas plant in Algeria last year voiced their anguish as inquests into the deaths began Monday.
Six Britons and a UK-resident Colombian were among the 40 hostages killed in a four-day siege and the special forces rescue operation that followed, the court heard.
Opening the inquests into their deaths, Assistant Coroner Nicholas Hilliard said friends and family had been left "devastated" by the deaths.
The judge, sitting at the Royal Courts of Justice in London, asked for silence as he read out the names of all those killed.
Among them were British nationals Garry Barlow, Carson Bilsland, Stephen Green, Sebastian John, Paul Morgan, Kenneth Whiteside and Carlos Estrada, originally from Colombia.
"Each was wholly innocent of events which unfolded when a group of heavily armed gunmen went into the In Amenas gas facility," Hilliard said.
"Forty innocent people lost their lives, such was the scale of events.
"Each and every death is a wholly separate tragedy and leaves family and friends devastated and bereft."
Islamist radicals stormed the isolated Tiguentourine complex, which lies deep in the Sahara desert, on January 16, 2013.
A special forces mission ended the hostage crisis, leaving 29 attackers dead.
In English law, inquests are held to examine violent, unnatural or unexplained deaths. They set out to determine the place and time of death as well as how the deceased came by their death, but do not apportion blame.
The hearings began with family telling the inquest about the lives of their lost loved ones and the impact of their deaths.
The father of Green, 47, a health and safety executive, said the families' lives had been turned "upside down".
"Stephen's death has been very hard for us. He had a lot of happiness to look forward to," David Green told the inquest.
"I feel both grief and anger: grief that my son was refused a happy future and anger against those responsible. They are not forgiven or understood."
He said the family still feel the pain of his loss.
"It does not diminish with time," he said.
Christopher Bilsland's inspection engineer brother Carson had criticised security at the plant.
"The job is fine but security is not good and not safe compared to other places I've worked," the 46-year-old wrote.
Christopher Bilsland added: "We want to know if In Amenas could have been prevented and if the necessary steps were in place."
The inquests are expected to continue into October.