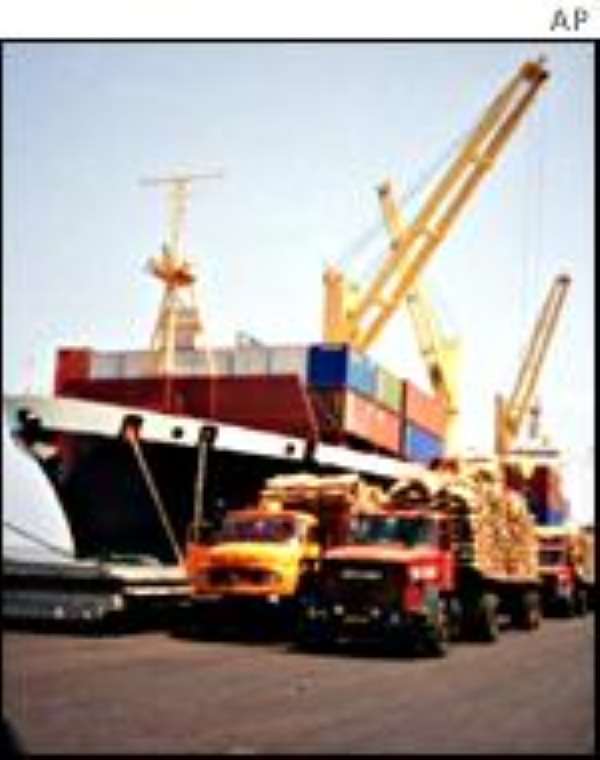 Tema, June 14, GNA - A number of importers from Ghana's landlocked neighbouring countries have decided to use the Tema Port, as corridor for their goods in transit to their various countries.
The importers from Burkina Faso, Mali and Niger cited good security network, manageable handling rates, high efficiency levels and Ghana's peaceful atmosphere as reasons for relying on the Port of Tema for their transit goods, Mr Jacob K. Adorkor, Tema Port Operations Manager, told the Ghana News Agency in an interview at Tema on Saturday. The landlocked countries diverted their transit cargoes from the port of Abidjan, Cote d'Ivoire to the Tema Port since the Ivorian crisis started in September 2002.
The cargoes include rice, sugar, cooking oil, flour, manufactured goods, vehicles and electrical gadgets among other items.
He said since the transit goods started routing through Tema Port "traffic has increased drastically", and that about 80 percent of the goods would have passed through Cote d'Ivoire
The Operations Manager said the Tema Port recorded 261,251 metric tonnes of transit goods in 2001 and this shot up sharply to 627,773 metric tonnes in 2002 and further increase to 855,093 in 2003. He expressed the hope that the Port would record one million metric tonnes of transit cargo by the end of 2004.
Giving statistics on the performance of the Port since 1997, Mr Adorkor said the port recorded 8,611 metric tonnes of transit goods that year, 29,060 metric tonnes in 1998, 29,893 in 1999, then 144,973 in 2000.
He said the increase in traffic however, had not created congestion because the Tema Port had the capacity of handling 15 million metric tonnes of cargoes in a year. In 2003 the Port handled 7.3 million metric tonnes of transit goods.
"What appears to be congestion at the Port is not created by traffic, but the physical development work at the quay two extension, work at the cocoa shed as well as construction of transit sheds at berth eight and 10," he stated.