September 7, 2014
|
Feature Article
THE MATHEMATICAL ANALYSIS OF 2016 GENERAL ELECTIONS. WHO OCCUPIES FLAGSTAFF HOUSE?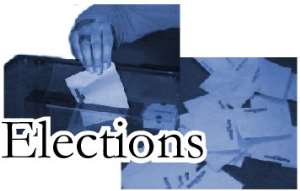 Elections in Ghana is a do-and-die affair among many supporters of the two dominant parties currently and they are NDC and NPP. Many political pundits have ticked their parties to win this crucial elections slated for 2016, it is the reason that has pushed me to delve into the electoral analyses as well as electoral fortunes of these two parties. I ask "Is Elections 2016 going to the historic time a reigning party has won elections on three successive terms or is it going to be the creeping electoral convention under the 4th Republic where parties govern for just two terms?
Who is the New Patriotic Party (NPP) presenting as well as that of the National Democratic Party (NDC)? Is the NDC going to present Prez. Mahama again as its candidate or bring in a new person? Also,is the NPP going to present Nana Addo again or this time around present Alan Kyeremanteng? I guess Prez. Mahama is likely to win as flagbearer again of the NDC since he is an incumbent president so therefore he has more resources at his disposal as well as his incumbency which serves as an advantage. Again, it wont be news to me if Nana Addo wins the third time as a flagbearer of the NPP since currently he is the most popular candidate among the aspirants. But, it wont also be news if Alan Kyeremanteng should emerge but the emergence of Alan Kyeremanteng aside of Nana Addo will be very disasterous to the fortunes of the NPP as a party since it will mean that indeed Nana Addo was a bad choice for the party twice.
Now, presuming the contest of 2016 General Elections is mainly between Nana Addo and Prez. Mahama,then each will have an ardious task in winning the election for its party. The success of Prez. Mahama will ultimately depend on his administration's success to over the economic challenges bedevilling the country by creating employments for the youth,stabilizing the currency and achieving both macro and micro economic stabilities. For Nana Addo also to win the elections,he needs to restructure his campaign strategy and what to do in selling his manifesto.
Some political pundits in the NPP have argued that, Nana Addo has been marketed twice and that selling him for the third time will ensure victory because of economic mismanagement under the current administration and go ahead to cite late Prez. Mills as an example but have forgotten that even when they argued that erstwhile Kuffour was performing well,they still lost and that Prez. Mahama is an incumbent president so he enjoys incumbency which is always a political advantageous.
First and foremost, it is significant to note that in 2008, NPP under Nana Addo as flagbearer experienced an electoral dwindle of votes. He dwindled the party's votes from 4,524,074 votes to 4,159,439 votes showing a loss of 364,635 votes in the first round representing 3.32% of votes garnered in 2004 by ex-prez Kuffour.
But late Prez. Mills,increased his party's votes by 206,266 showing an increase of 3.28%. Again,when both candidates couldnt garnered a 50%+1 vote,it took the country to go for a run-off to separate the two parties. In the run-off, Nana Addo increased his votes by 321,007 votes representing an increment of 0.64% in real percentage whilst late Prez. Mills increased his by 475,498 votes representing a real percentage of 2.31% to become president. With these statistics, it is unfortunate to compare both men and therefore giving Nana Addo a third chance is flawed. Again, three times chances given to late Mills showed an increase of 1,625,557 votes representing an increment of 5.43% in real percentage terms. Even using two chances of both, Nana Addo increased his party's votes by 724,824 showing a reduction of 4.71% in real percentages and late Mills increased by 670,774 votes showing an increase of 5.59% in real percentages. Interestingly,Nana Addo increased his votes from 2008-2012 by 768,452 votes showing an increment of 17% of what was gotten due the run-off showing a reduction of 2.03% in real percentages and Prez. Mahama imcreased his predecessors votes by 1,053,729 votes showing 23.31% but 0.47% in terms of real percentages. Prez. Mahama,first timer beat Nana Addo by 226,063 votes. Nana Addo's loss of 2.03% of votes garnered in percentages is 4.32 times what Prez. Mahama had in terms of percentages.
Now lets focus on 2016, ceteribus paribus,I presume the voters will stand around 16,590,546 and valid votes to be casted will be around 13,176,616. Using Nana Addo's performances, he is likely to get around 48.88% representing 6,440,729 votes and Prez. Mahama getting 49.62% representing 6,538,236. These figured are arrived at using both parties performances between 2004-2012. With these figures, Nana Addo should strategize to get an extra 1.13% of the votes to become president representing an extra 443,400 votes thereof; and Prez. Mahama needs an extra 0.39% representing sbout 241,788 votes extra to win his second term. In conclusion,should Nana Addo become president,he needs 6,884,129 votes should Prez. Mahama get 6,538,236 votes,and should Prez. Mahama win, he needs 6,780,024 votes should Nana Addo get 6,440,729 votes.
This means that Nana Addo needs between 1,191,831-1,635,231 of votes garnered in 2012 and Prez. Mahama would need between 963,475-1,205,263 extra votes to win 2016 General Elections. But in actual fact,I am guessing only 12,115,679 electorates would vote. With this, Prez. Mahama needs 6,332,549 votes implying 757,789 votes extra to win showing a percentage of 52.27% and Nana Addo would need between 1,230,569-1,654,348 extra votes to be president implying get 6,479,477 votes or more. Or Nana Addo needs to get 6,228,207 votes should Prez. Mahama get 5,942,930 votes and if Prez. Mahama should be president with that figure, Nana Addo needs to get 5,778,898 votes.
From these statistics,it will be foolish on any party to think that 2016 General Elections is a done deal and that all must work hard to win the elections.