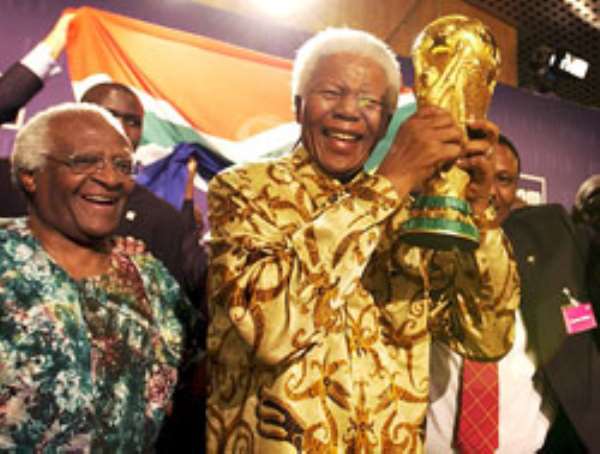 A FOOD for thought has been prescribed for the Convention People's Party (CPP) in the form of a reminder on the need for all followers of Nkrumah to work for unification.
Dr. Chrys Kwesi Sackey, a Ghanaian resident in Cologne, Germany and an ardent sympathizer of the party has tasked the leadership of the CPP to, as a matter of political expediency, regroup all the dispersed Nkrumahist forces and strengthen the CPP to recapture political power at the next elections.
Sackey is convinced that there is a way out of the socio-economic misery of Africa and that reviving as well as safeguarding and promoting the name of Osagyefo Dr. Nkrumah is one sure way of prevent further waste of their individual talents.
To achieve unity, Sackey advised that CPP and Nkrumah should be put before their personal vanities and recognize each other's individual talents to make the CPP a political force to fight all other political forces bent on destroying the CPP.
He described the NDC as CPP's deadliest enemy and also accused the NPP for rendering Ghana international useless as a heavily indebted poor country.
His suggestion is on the premise that Osagyefo Dr. Kwame Nkrumah is a great man whose greatness must not be allowed to wane just like that. He pointed out that under CPP and Nkrumah, all Ghanaians were highly respected across the world and suggested that restrengthening of the CPP must reverse this negative development.
In an interaction with yours sincerely through the electronic mail Dr. Sackey blamed the disunity of the CPP on so-called CPP stalwarts who claim to be the bearers of Nkrumah's walking stick and handkerchief.
These self-seeking people are nothing but ambitious people filled with the vanity of becoming Presidents without any pragmatic programmes to solve problems facing the country.
He pointed to the "quarrels" of Prof. Hagan, Dr. Mahama, George Aggudey, Goozie Tandoh and F.A. Jantuah all of whom he described as "ideological dinosaurs" who continue to abuse themselves and look on while unemployment, falling standards and cost of education continuously escalated without any antidote.
"I have heard nothing pragmatic from any of these self seeking vain glorious persons against the problems like globalization, unemployment, falling standards and rising cost of education among others" he said.
According to him no politician in Ghana today has any programme to offer than the ambition of being voted into political office to end ones financial problems.
He also mentioned Kweku Baako, Mike Eghan and "that talkative Kwesi Pratt" as some of the vainglorious persons who had forgotten the "trimegistus" of Dr. Nkrumah.
Sackey further accused the Nkrumahists of allowing the West to sideline the "great and politically inspiring name of Nkrumah and prevail on our conscious that of Nelson Mandela as a great African politician.
"But we Ghanaians must know and make it known that Dr. Nkrumah is thrice greater than Nelson Mandela" he said adding "Without Nkrumah there would have been no Mandela".
He explained that Mandela liberated Azania (the real designation of South Africa) but Nkrumah, the name once feared by the imperialist West, liberated the whole of Africa.
Sackey who, as a ray of hope for the CPP and intends to come down in October to help with election strategies and campaign methods for the December elections, chastised Nkrumahists for allowing former President Mr. Rawlings, who he described as "intelligently, politically and socio-economically inexperienced" to cause this damage to the great name of Nkrumah.
He is saddened by the fact that the great name of Nkrumah seems to be forgotten among Ghanaians proving to the world that "we have no history".
Dr. Sackey aka Kwesi Crentsil (not A.B. Crentsil) a former musician/singer who sang together with Mike Eghan for the Broadway Dance band in Takoradi in the 1960s and progressed to get his PH.D in 1993 says he is inspired by the great efforts of Mr. Sam Riley Poku, elder and member of both the Central and Disciplinary committees of CPP in uniting all true Nkrumahists hence his decision to come to Ghana to help with "the resurrection of the name of Dr. Kwame Nkrumah" and the re-organization of the party particularly in the Western region.
The ethnomusicology lecturer and political scientist has suggested that Alhaji Asuma Banda be drawn into the CPP as a stalwart in the restrengthening efforts.