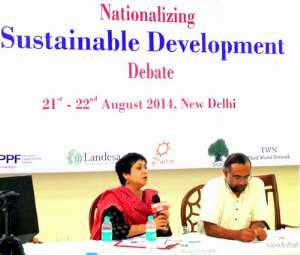 The deadline for the realization of the eight Millennium Development Goals (MDGs) by countries of the world is drawing to a close in 2015. The progress on MDGs might have been with mixed results, but lot of lessons need to be learnt while we frame new set of development goals and targets after 2015. The post-2015 discussions have been taking place since last one and a half years to address the issues of unsustainability, poverty, climate change, and global cooperation, with a view to integrate the economic, social and environmental aspects of global governance.
The Open Working Groups (OWGs), set up by the UN to formulate Strategic Development Goals (SDGs), finished its 13th session in July 2014 and is ready with its final draft outcome document on SDGs. Modalities will be discussed in September 2014 before UN General Assembly and negotiations might commence in January 2015 onwards.
A collective of organizations held a consultation to debate on "Nationalizing Sustainable Development" in Delhi to discuss how and what can contribute to address sustainability at the national level in the context of SDGs. This consultation was made possible with support from a range of organizations and networks such as Third World Network (TWN), PAIRVI, Beyond Copenhagen, Cecoedecon, Family Planning Association of India (FPAI), International Planned Parenthood Federation (IPPF), CSO Partnership for Development Effectiveness (CPDE), South Asian Dialogues on Ecological Democracy (SADED), IBON International, LANDESA, among others.
While speaking to Citizen News Service (CNS), Ranja Sengupta of Third World Network (TWN) dwelt upon the rationale for replacing the MDGs with a new set of goals post 2015. The 8 MDGs (eradicate extreme poverty and hunger; achieve universal primary education; promote gender equality and empower women; reduce child mortality; improve maternal health; combat HIV/AIDS malaria and other diseases; ensure environmental sustainability; global partnership for development) were basically economic and social in nature.
According to Ranja an increase in the consciousness about the environment, and also due to the miserable failure of MDGs 3 and 8, a need for broader and more comprehensive goals post 2015, was felt. As of now, the OWGs have outlined 17 SDGs, (like poverty eradication, food security, social equity, gender equality, quality access to many basic services like health, water, sanitation, affordable modern energy, housing, means of implementation and environmental sustainability, among others) and 168 targets to be achieved. The goals on health, education, water and sanitation, sustainable industrialization, ecosystems and sustainable consumption and production are generally positive.
POST-2015 SDGs MORE COMPREHENSIVE THAN MDGs
Ranja said that, "MDGs were perhaps minimalistic in their scope. Also the global dynamics has changed and developing countries are now better organized to articulate their concerns than before. SDGs are definitely more comprehensive than MDGs. The most interesting value addition of SDGs is that they encompass a bold spectrum of the three pillars of sustainable development: economic, social and environmental-- that are reflected in every goal. But a lot of the language is still very vague and at times they are stated in very general terms. Moreover indicators - which need to be specific and reflect what we are trying to achieve - have still to be worked upon."
"While I am not very optimistic that SDGs will be able to achieve what MDGs could not, they are definitely better balanced than MDGs as far as involvement of the global community is concerned. In terms of commitments and targets on sustainable consumption and production, climate, inequality and other aspects, the onus is now on all countries to achieve them in accordance with their own national level targets based upon their individual capacities. Targets will be same for all countries but how much will each commit to achieve will be country specific."
DIFFICULT TO MAKE 'POLLUTERS PAY'
Ranja lamented that, "The Global Partnership component calls for funding from multiple sources and stakeholders. But then it is very difficult to pinpoint ownership and responsibility in case of multiple partners. Governments will have to be centre stage and held responsible and accountable. But this aspect of governments being accountable has been diluted.
The developed countries have said that they no longer have funds to give to the developing countries (even though they should take a higher share of responsibilities as a lot of their wealth has come from exploitation of developing countries). And so there is a huge emphasis upon developing countries to seek funding from the private sector, apart from domestic resource mobilization. This would have serious and dangerous implications, more so because there is no insistence upon corporate sector accountability and regulations.
While civil society has raised this issue over and over again, governments have generally been silent on it. It is also very dangerous the way the corporations have really tried to push in many sectors and hijacked some of the issues. For them, it is not about just donating or funding development - it is about making money out of it like any other profit making venture. Even the UN system has been coopted in this whole thing of the private sector. It might be a better proposition for countries to impose some tax on the corporate sector to fund their development projects. But an unregulated capture by multinational corporations is bound to have dangerous consequences."
"Another danger is that when the SDG talks of partnerships - civil society, corporate sectors and others have all been clubbed together in the partnership language. But different categories have different roles to play and need to be used differently. There has been less emphasis on the role of civil society being an enabling and constructive partner."
NORTH-SOUTH DIVIDE
"The balance of power has definitely shifted in the SDGs and we hope to see it reflected post 2015. Although the North-South divide still remains, but now not only developing countries but also developed countries will have to make commitments and not get away so easily this time. SDGs are weak on the aspect of making countries more accountable, and the means of implementation (MOI) have to be stronger and made both goal specific as well as standalone (SDG 17). But the developed countries want only standalone MOIs which makes them very general and waters down everything. The broad goal 17 is being made more abstract and general and hence very difficult to pin it down."
"No country has taken a uniformly good position on all the goals. Developing countries do not want to take on commitments in many sectors, like they do not want to talk about human rights. India has not taken a strong position on corporate sector accountability and regulations in the negotiations till now. But its stand on other issues like MOIs has been quite good. It becomes all the more important for civil society organizations to identify relevant issues and then lobby with the governments strategically."
"It also remains to be seen how environment sustainability and more job creation will go hand in hand—you have to grow but grow in a better way. Also countries need to determine their own policy space at the national level. Moving from the village to the national level we can have our own strong framework of pushing for our development priorities. Governance can be pushed much better at national level than at global level to achieve goals and targets."
So while the adoption of SDG document by the OWG is definitely a step forward, it fails to address an enhanced global partnership for development as well as substantive MOIs both within the goals and through themes of trade, finance and technology. Opening the doors to private sector financing and partnerships for sustainable development, without any specific measures on evaluation, accountability, transparency and overall governance are also worrying.
Modalities of post-2015 framework should get done in September 2014 around the UN General Assembly and intergovernmental negotiations will begin in January 2015 onwards. It is anybody's guess as to what will be the nature of the final content and out of these 17 goals how many will eventually remain. Let us hope that in its final form, the OWG outcome document is not just another missed opportunity to introduce a just and sustainable development agenda for post 2015, and is not merely an expanded version of MDGs with revamped targets.
Shobha Shukla, Citizen News Service (CNS)
(The author is the Managing Editor of Citizen News Service - CNS. She is a J2J Fellow of National Press Foundation (NPF) USA and received her editing training in Singapore. She has earlier worked with State Planning Institute, UP and taught physics at India's prestigious Loreto Convent. She also co-authored and edited publications on gender justice, childhood TB, childhood pneumonia, Hepatitis C Virus and HIV, and MDR-TB. Email: [email protected], website: www.citizen-news.org)