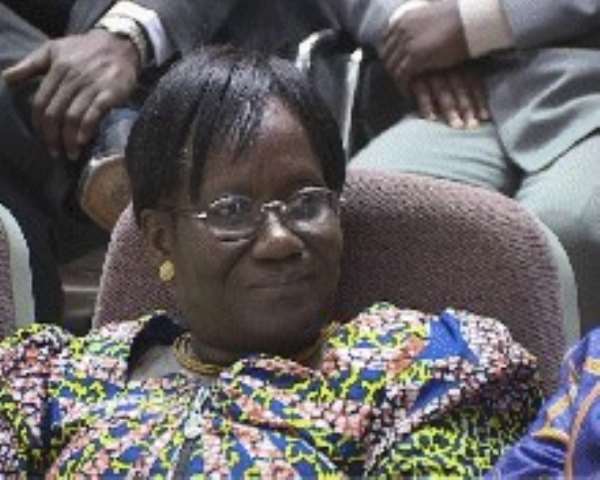 The Deputy Minister for Lands and Forestry, Theresa Ameley Tagoe, has promised to turn over a new leaf, after the Head Pastor of the Laterbiokoshie District of the Evangelical Presbyterian (E.P.) Church, Rev. W. S. Alorvi, preached a solemn sermon on the achievement of peace through receiving of the Holy Spirit.
They Deputy Minister told the packed congregation of the Dansoman E.P. Church that she would refrain from quarrelling and allow the Holy Spirit to guide her.
"From today, I am not going to quarrel again," the New Patriotic Party (NPP) strong woman declared during the 20th Anniversary celebration of the Church Choir held at the church premises, last Sunday.
Madam Tagoe, who is also the Member of Parliament for Ablekuma South said her decision not to quarrelling again resulted from the sermon delivered by the Reverend Minister.
According to her, she was so touched by the sermon that, she felt the discernment of the Holy Spirit upon her.
"The sermon, which was about peace, has changed me," she noted.
Rev. Alorvi had touched on the role the Holy Spirit could play in bringing about peace, stability, and national development in the country and advised the people of Ghana to pray for a discerning knowledge in selecting the right person to lead the country in the up-coming elections.
"We must pray for peaceful parliamentary and presidential elections," Rev. Alorvi pointed out, stressing that the country belonged to all Ghanaians.
The whole church prayed for peaceful elections, the political parties, and the country as a whole.
Speaking, Madam Tagoe said singing was medication to the human soul since it could be used to heal diseases, especially mental ailments.
Quoting from the Bible how David sang for King Saul to heal his mental disorders, she called on Ghanaian youth to "evangelize through singing," which was the theme for the celebration.
She however accused Churches of not doing enough in educating the youth about the HIV/AIDS pandemic.
She said the government had been setting up commissions and using money from both within and out, concentrating on the HIV/AIDS pandemic, however, the rate keeps on increasing day by day.
According to her, the solution to the pandemic was in the Bible, and churches should emphasize on teachings on premarital sex and adultery, saying they contributed a lot to the high rate of HIV/AIDS cases in the country. "Fornication and adultery are sins in the Bible," she charged.
Madam Tagoe also informed the church on some of the policies and projects undertaken by the government including the Poverty Reduction Strategy, infrastructure development and National Health Insurance Scheme among others.
The church choir, performing with the national symphony orchestra, treated the congregation and guests to classical masterpieces from the 16th centuries.
The occasion was used to appeal for funds, which yielded over ¢50million, with the choir donating two electronic hymnal boards valued at over ¢3 million to the church.