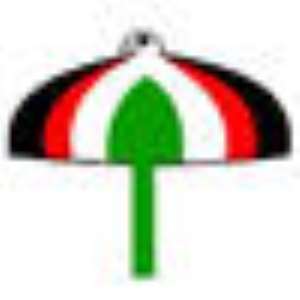 Techiman (B/A), June 2, GNA - Mr Alex Baffour, national Democratic Congress (NDC) Officer in-charge of Special Duties in the Techiman Municipality, has expressed optimism that the Party would capture all the parliamentary seats in the Brong-Ahafo region in Elections 2004. He said the impression held by a section of the opposition parties that the NDC was dead and buried was a farce, because it was a wish that could never be fulfilled.
Mr Baffour was addressing a meeting of NDC youth at the weekend at which they discussed strategies to be adopted in the electioneering campaign in the Municipality.
He said despite the setbacks suffered by the Party's parliamentary candidates in the Election 2000, the NDC was poised to win back all the lost seats in this year's elections.
"Even in the newly created constituencies and districts in Kintampo, Nkoranza, Jaman, Tano and Asunafo, the NPP would lose all the seats", he said, and called on NDC members not to panic because the Party was putting effective mechanisms in place to counteract any dubious moves by any other party. 02 June 04