Mack Tontoh Throws Weight Behind NDC (0)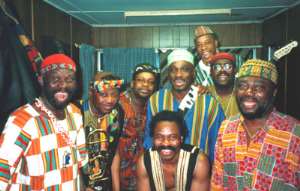 Mack Tontoh of Osibisa fame has thrown his weight behind the NDC. It now seems fashionable in Ghana that everyone wants to be associated with the NDC. Mack Tontoh is putting together a couple of jingles to be used by the NDC campaign team most likely based around the term 'Scent nu'.
BBC World Service had this brilliant programme about 'HighLife Music' last night. During the programme Mack Tontoh was asked about his opinion on highlife music. This was where he revealed that he was putting together a jingle for one of the main political parties whom he supports. Later he confirmed that the party is the NDC......