Chinese Salon Loan: New Twist/Spin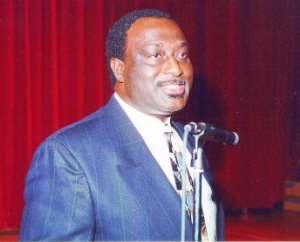 Trade Minister, Not Osafo Maafo Negotiated For "Loan" Heads Must Roll -MPs While Finance Minister, Mr. Yaw Osafo Maafo, has borne the brunt of public bashing for the controversial CNT loan, information emerging appears to suggest that it was Trade, Industry and PSI Minister, Alan Kyeremateng, who conducted the negotiations with CNTCI and its consultants. A Chronicle source close to the Ministry of Finance revealed that Mr. Kyeremanteng was the representative of government at all the negotiations. Mr. Osafo Maafo, as Minister of Finance, did not have direct contact with CNT and was rather regularly briefed by Kyeremanteng on the negotiations. To support his point, our source explained that because Mr. Osafo Maafo was not responsible for the negotiations for the loan agreement, he insisted that the other ministers, Mr. Kyeremanteng, Dr. Richard Anane (Roads and Transport) and Prof. Christopher Ameyaw-Akumfi (Railways, Ports and Harbours) should all append their signatures to the documents for presentation to Cabinet and Parliament. "This is contrary to the normal practice where the Minister of Finance signs loan agreements for presentation to Parliament no matter the sector the financing is to be applied to," according to the source. It has also been revealed that when the Parliamentary Finance Committee expressed dissatisfaction at the huge management fee of 8%, it was Mr. Kyeremanteng, rather than Mr. Osafo Maafo, who communicated with CNT and negotiated a reduction of the fee to 2.5% as management fee and 1.5% as commitment fee. He subsequently informed the committee that he had negotiated the fee downwards. This will seem to suggest that while Mr. Osafo Maafo is not absolved from blame, other ministers like Kyeremateng who are currently hiding in the shadows bear probably more responsibility for the scandal than Osafo Maafo. Several efforts to get Mr. Kyeremanteng to confirm or deny the story proved futile, as the paper was told yesterday that he was at a 'marathon meeting.'
Meanwhile more controversy continues to surround the loan agreement, following an interview conducted by Joy FM at the weekend with Mr. R. Edwards, a senior official of CNT Group Holdings. Edwards admitted that CNT Group Holdings and CNTCI were not registered to operate as financial institutions and therefore were not in a position to provide a loan to the Government of Ghana. He also admitted that what CNT was arranging, was for suppliers credit agreement to execute projects in Ghana. He also claimed that the document that was approved by Parliament was only a basic draft that was yet to be finalized and still had several clauses to be inserted. The question being asked by members of the public is: Why was a draft agreement sent to Cabinet and Parliament for approval? This has led to some outrage at Parliament with several MPs. The Chronicle spoke to expressing disappointment at being misled by the executive. Several of them were of the opinion that some heads must roll and suggested that the President should act boldly this time rather than in the indecisive manner he had behaved when his government had been overwhelmed by scandal.