Entangled In Sexpreneurship Episode 6--Thank You, Sheikh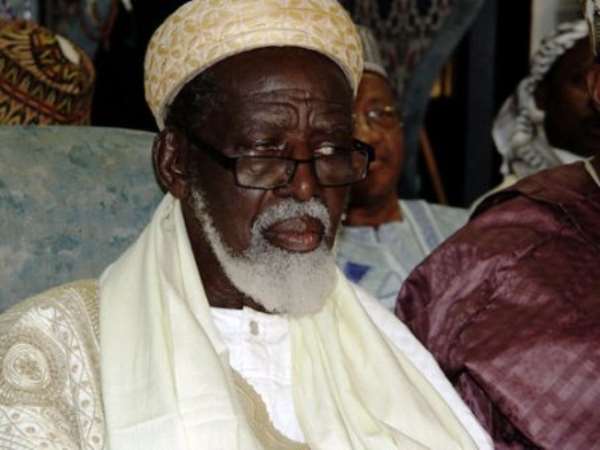 The day has broken from the dark shell of the night, and it's a wakeup call on men to heed to the divine calling of fending for the family. A special call on women of the land to keep home and also compete their men, shoulder-to- shoulder. Birds must eat from someone's farm, and the beggars in the street should also take position cos' its time for breakfast.
The bustling energy in the trotro stations reminds me of somewhere in Ghana where we were pulled by fatless but strong bulls in fresh virgin lands in attempts to plough the rough savanna farms.
I woke up this morning to a refreshing news from my number one fan. To whom much is give, much is equally expected.
My grandfather once told me that 'he who paves way for the great paves way for his own greatness. Truth be told, I least expected the National Chief Imam to check on my column for any read ups. Apparently, the 'Imamu' himself has made it a weekly ritual to entangled himself with events surrounding my family and the taxi business in general.
I thought only Engyluv or the Chief Priest of Brong Ahafo were the only beings interested in sweet vibes.
I was embarking on my usual romantic exploit this morning spoiling my pregnant wife with a calculated Finnish massage, and she burst out in laughter. 'Honey, did you know that Sheikh read our last episode?' Which of the Sheikhs?, I quizzed. I heard Sheikh Osman Sharabutu on radio saying that the muslim community should help him put a stop to the Okada business, something we raised in the last episode. I was stunned by the news. The whole Sheikh himself?
Like seriously? I was told most big men peep through to check on my family and the business but, for the National Chief Imam......It is a feather in my cap I must pick. On behalf of my conjugal collaborator and our unborn child, I wish to give a big shouts to the high office of the chief imam. What's sup, yoh.
Dr. Olenu was on the phone to check on me as well, Nefertiti added again, She wanted to know if the baby was kicking harder.
I respect our family doctor for one thing, she's taken us as a family, not just clients. She's the same guru who gave me an expert view on sex and the nomenclature of babies. She practically lectured us on which style was capable of producing a male child, something Kama Sutra was unable to do. I will tell you a lot about Doc Olenu later.
Today, I'll spy around then Kotoka Airport to fish for some foreigners; maybe I'll hit a jackpot. First time tourists from Europe do pay well. One is likely to bag home 100 Euros on a good day, but don't expect that from the Londoners. They are 'chiesel'. They will bargain for any fare you mention.
Changes have hit the labadi- 37 road. Its peeling itself like a snake, thanks to the Chinese constructors. Barring any last minute hitches, this road will be a make up pad for some people before the year ends.
It'll be a first class road with a space for the much anticipated bus rapid transport system. But all good roads must not be centered in this part of the city- Circle, 37, and Accra. The Nungua -Tema stretch is a killer road capable chewing up any German shock absorber. This stretch is the one that connects the industrial city of Tema to the rest of Ghana. This same road conveys thousands of workers every mornings and evenings. The holes in that piece should either be called ponds or manholes. Perhaps, the Tema road is classified by drivers of Borkorborkor as excellent. No demonstration should call for an action on this one.
I was suddenly brought back to life by a call on my Huawei phone...Eii Akataporeh, so you dey?, 'I dey oo, where you are you now', he asked. Around El-Wak going to 37, I answered with no haste. I dey Burma Camp. 'I beg, you go fit come and pick me go airport?
Before I could hang up the call, I heard a damning knock on my car. Driver! do you know its an offense to drive and answer the phone at the same time. It was the 'aban' people again, these policemen are always on the look out for taxi drivers. Injustice.
'Oh Sah, I was in the traffic, I wasn't driving'; in a baby voice. 'Go and sin no more', he fumed. This kind gesture from a police officer is rare, especially at this trying and 'sacrificing' moment.
I managed a u-turn at the Airport road and headed towards Burma Camp for Akataporeh, my loyal client. A. K will give me a call on his way from hell. He loves my car, and I am always happy to be enthralled by his presence. He is endowed with humour. Above all, he pays well.
Burma Camp is a place I least show my driving prowess. Soldiers here and there, I hate soldiers, especially the young ones from Shai Hills. They understand nothing apart from the 'do before complain' philosophy.
From Congo Junction, I could see a boleh soldier man whose camouflage struggles to swallow his muscles. 'Chai', I exclaimed, it was this the same man I saw disciplining a high school student for what he termed 'idle dressing'. My heart jumped into my mouth. Should I or should I not go.
The traffic light showed green. In confusion and desperation, I branched right towards the barracks. 'A man born for war fears no bullet', I told myself. Before I could push to second gear, the bole soldier made a quick march and halted on my way. One arm pointing straight at me with all bulging eyes.
STOP!
TO BE CONTINUED.