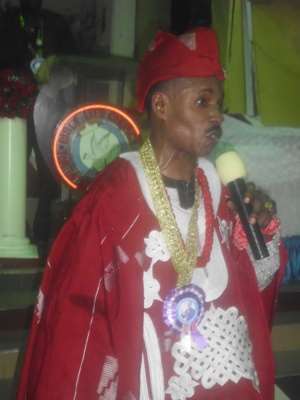 Bishop (Prof.) Leonard Nwoma Umunna is the General Overseer and the Presiding Bishop of Bible Life Church Cathedral (BLCC) international. He founded Bible Life Church in 1982 and married as a virgin in 1975 at the age of 22. Today, Bishop Umunna pastors one of the largest Pentecostal church in Nigeria and still remains focus in his calling without backslide, defeat or scandal. There are ten things that make Bishop Leonard Umunna special among bishops in Nigeria. He is a minister of God full of innovative and ground-breaking ideas for change.
1. Bishop Leonard Umunna is not a minister of God that copies other ministers' of God callings than doing his own God's special assignment. He listens to the Holy Spirit for solution not man. He is one man of God that has distinguished himself from the crowd over the years. He was called into the Pentecostal family in the 60s and still remains updated with the ministerial challenges in the world. He was called to Ajegunle to start Bible Life Church and still remains there even when God has divinely blessed him over time. His church remains the largest in Ajegunle with over 300 branches in Nigeria and abroad.
2. Bishop Leonard Umunna is the only Ajegunle pastor that has offered multiple scholarships to impecunious students from both Muslim and Christian backgrounds. He has invested largely on education in Nigeria from primary level to university level and has created massive employments for youths. Bishop Umunna foundation has helped to identify with grassroots sports in Nigeria. He believes in catching them young in life. He is not a greedy pastor that wants to enrich himself alone while his members suffer. He sees other people problems as his own and nothing more.
3. Bishop Leonard Umunna's teachings are on salvation and how members can make heaven. He believes that a believer must live above poverty. He is a well-disciplined pastor with integrity. He does not promise what he cannot do. He is the only pastor that has willed his property to God and the church without adding his children to it. Unlike today, where most Pentecostal pastors run their ministries as family business. He has separates his family from ministry. Even though if Bishop Umunna is no more, Bible Life Church will continue to exist on the planet earth. He has set a ministerial standard for the church. The only Nigerian pastor who does not collect dowry from his in-laws.
4. Bishop Leonard Umunna has an appealing dress sense. He does not dress anyhow. Each ministration with particular dress sense. He knows the value of dressing well in the public. He is a role model to many young pastors in Nigeria. He is not a proud type that underrate young pastors and ready to support their visions to grow in life. He is a man that loves creativity and objectivity. He is one of the Ajegunle pastors that know the value of the media. He is a philanthropic pastor with credibility and accessibility.
5. The only Nigerian Pentecostal bishop that has escaped death for 99 times in Nigeria. He worn a pair of suit and shoe and fasted for five years in pursuing the call of God. He was half-dead for three years and never attended a secondary school but today he has many Masters Degree in circular and religion and a renowned Christian professor in Nigeria.
6. Bishop Leonard Umunna has written over 45 books and tracks for evangelism of the gospel of Christ and debuted 9 music albums to his credit. He is contented with what God has given to him and nothing more.
7. Bishop Leonard Umunna interprets vision faster and ready to support that vision to grow. He has one particular culture in his life that he does not take monopoly of knowledge and in every programme he asks his guests or members whether he performs well or not unlike some GOs that see themselves as super champions. He does not boast on the pulpit rather preaches what God ask him to do.
8. Bishop Leonard Umunna's second name is humbleness and faithfulness. Every member of Bible Life Church loves Daddy Umunna because it takes the ministry as one family not a tribal one. He does not run a traditional or community church but God's own. He is a faithful giver to the core.
9. The only Ajegunle pastor that has a massive land for camping. He has bought lands for people and cars free. He has been invited to Aso Rock villa many a time for prayers and travelled to highly demonised countries to preach the gospel of Christ.
10. Bishop Leonard Umunna's staffers receive their salaries before 30th of each month.Nobody works with Bishop Umunna and remain unhappy in life. Even those not working are receiving salaries from Bishop Umunna.Bishop Umunna remains a great servant of God in Nigeria.
Godday Odidi
Public Affairs Analyst
08058124798, Lagos