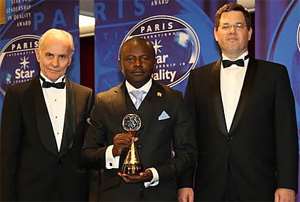 CEO of VSA, Mr. Asiedu Sekyere picked the award on behalf of the company
CEO of VSA, Mr. Asiedu Sekyere picked the award on behalf of the company
Virtual Security Africa Ltd., a system integrator of complete security solution, has received international recognition for excellence in the delivery of security services and products.
The company picked up the International Star for Leadership in Quality (ISLQ) Award (Gold Category) at this year's Business Initiative Directions (BID) and BID Group One awards.
The awards were held on June 21 at the Hyatt Regency Paris Etiole Palais des Congres in the French capital, Paris.
The event was presided by Jose E. Prieto, President and CEO of BID, and attended by outstanding personalities from the business world and the diplomatic corps.
Mr. Prieto said, "The award recipients are icons of commitment to leadership, technology and innovation, making them models for others in their sectors.'
From Europe,  America, Africa, Asia, and the Middle East, companies and organizations received the International Quality Award in recognition of their achievements and commitment to quality, thereby joining the historic group of prestigious BID Winners.
Indigenous Ghanaian company, Virtual Security Africa, received ISLQ, Gold category, for its innovative security products and services not only Ghana but elsewhere in Africa.
Its Chief Executive Officer, Mr. Emmanuel Asiedu Sekyere, who picked up the award on behalf of the company, said he was humbled by the recognition.
According to him, the award will inspire 'us in our commitments to deliver only the best quality products for our clients in Africa especially within the Financial Institutions. Backed by a minimum of 2 years industry warranty and after sales support bond, our commitment to give our clients life-time experiences remains unyielding.'
'We have never compromised on our services and have been the pioneers in deploying the latest technologies for the Africa market. Our goal is not only to exceed every customer's expectation but in so doing provide them with peace of mind,' he stated.
Other companies that received awards at the event include Guangzhou Guangri Elevator Industry Co. Ltd—China, LEORON Professional Development Institute JLT-UAE, INSOL d.o.o—SLOVENIA, Interbudmontazh—Ukraine, RAO, Russia's Electricity Giant, Korea Electric Power Corporation (KEPCO),  Tata, Downer EDI Works—New Zealand, Eybl International AG from Austria and Reliance Infrastructure.