Mali, France sign military cooperation deal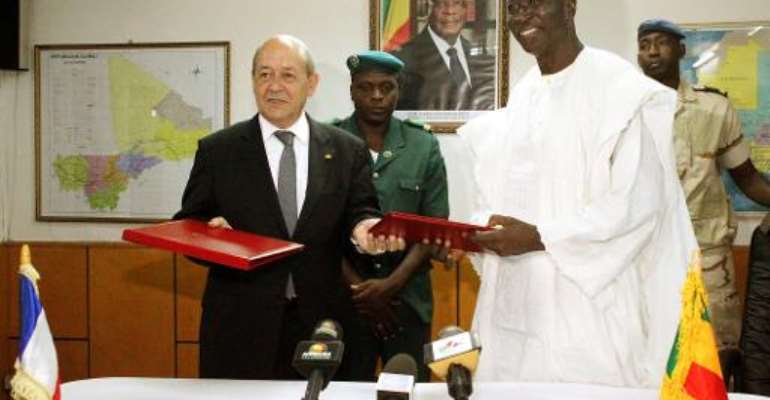 Bamako (AFP) - Mali and France agreed Wednesday on a military cooperation plan in the fight against Islamist militants infesting the west African nation's northern desert, according to an AFP correspondent.
French Defence Minister Jean-Yves Le Drian put his signature to the deal alongside his Malian counterpart Bah N'Daw at the start of a two-day visit to the former colony.
"This treaty will strengthen military cooperation between Mali and France in the fields of intelligence, training and information-sharing to ensure security on Malian territory and in the Sahel," Le Drian said in the capital Bamako.
Mali has been struggling to maintain peace and stability after Islamist groups linked to Al-Qaeda occupied the desert north for most of 2012 before being ousted by the French-led Serval military offensive.
Paris announced on Sunday that it was winding up Serval after 18 months and replacing it with a wider counter-terrorism operation, codenamed Barkhane and involving Mauritania, Mali, Burkina Faso, Niger and Chad.
Le Drian has said around 3,000 French soldiers will be part of the operation, 1,000 of whom will remain in northern Mali.
The French Ministry of Defence said in a statement Serval had "helped turn the tide against terrorist groups, destroy their infrastructure and restore Mali's territorial integrity".
Le Drian, on his eighth visit to Mali in 18 months, was due to meet President Ibrahim Boubacar Keita later on Wednesday before travelling on Thursday to Gao, the country's largest northern city.
He is also due to meet colleagues of Dejvid Nikolic, a French legionnaire killed in a suicide attack near the city on Monday.
The visit comes with Malian government negotiators and rebel groups locked in peace talks in Algiers, the capital of neighbouring Algeria.