'Stop Wrong Projection Of Cedi'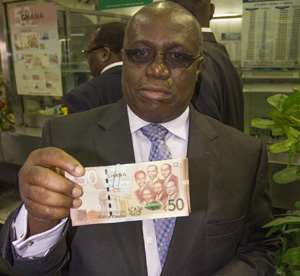 Dr. Wampah holding Ghana Cedi
Dr. Henry Kofi Wampah, Governor of the Bank of Ghana (BoG), has warned economic analysts to desist from wrong projection of the Ghana Cedi.
According to him, the wrong projection of the cedi creates panic and causes the cedi to depreciate against major currencies, thereby affecting businesses and the country's economy.
Dr. Wampah, who gave the warning at a press briefing in Accra said, 'Bank managers and economic analysts should stop talking down the cedi when they go on radio and television.
'These bad projections of the cedi have a potential of affecting the stability of the currency. They must be advised to stop,' he said.
 
Dr. Wampah said most of the projections they make have no basis because they don't do any research, stating that 'they just pluck the figures, which is bad.'
'I am not saying that they can't do their analysis but what I am saying is that they should stop putting figures to it,' he said.
The Ghana Cedi has depreciated by 27 percent since January 2014.
The Bank of Ghana (BoG) introduced some new measures in February to shore up the cedi.
However, the measures could not save the cedi.
The bank subsequently reviewed parts of the measures to streamline foreign exchange market operations to shore up the cedi.
Among the rules, over-the-counter cash withdrawals from FCA and FEA were permitted to a limit of $1,000 or its equivalent per transaction in foreign currency.
The 60-day mandatory repatriation of export proceeds was reversed and aligned to the terms agreed between trading parties.
The five-day mandatory conversion of export receipts into Ghana cedis was reversed, allowing exporters to retain up to 60 percent of their export receipts in their FEAs, and the remaining 40 percent converted at market rates within 15 working days.
Despite the measures, the Ghana Cedi is still depreciating against major trading currencies.
Before the enforcement of the measures, one needed an average of GH¢2.40 to obtain a dollar, having started the year at GH¢2.23 to the dollar on January 6.
Currently, one needs about GH¢3.40 to obtain a dollar.
 
By Cephas Larbi
[email protected]