Over 50 schools ravaged by rainstorm in N/R yet to be fixed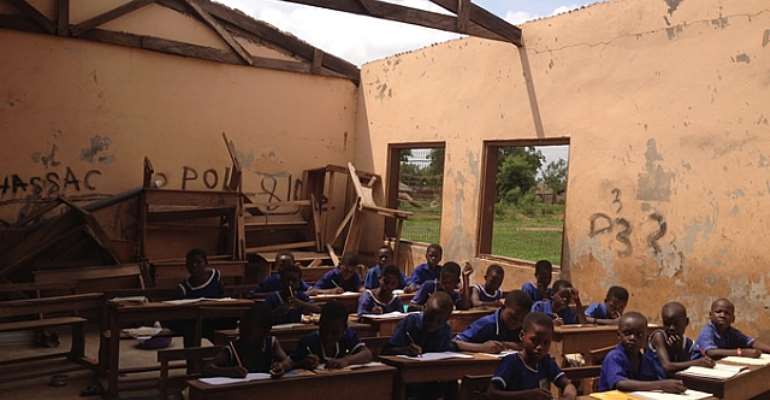 Over 215 classroom blocks in more than 50 junior high schools in the Northern Region that were ravaged by a series of rainstorms are yet to be fixed by authorities.
The roofs of the classroom blocks were completely ripped off while some buildings were razed to the floor after severe rainstorms between late last year and February this year.
The situation in some of the schools has compelled authorities to combine lower and upper level classes, while in other cases pupils are forced to learn under trees or on verandas of the school.
The schools affected by the rain cut across all the Metropolitan, Municipal, and District assemblies in the Northern Region.
Schools in the Sagnerigu District assembly lead in the number of affected institutions – a total of 21 primary and junior high schools were ravaged by the rainstorms.
Nyerizee Presby primary, Garizegu primary, Kasalgu primary schools are among schools that had the roof of their classroom blocks completely ripped off by the storm.
Struggling to speak in English, some pupils of Garizegu Primary school narrated how their heads ache when they study under the sun.
Another child said he gets distracted by noise coming from the community when he is studying under the tree.
The headmaster of Nangbagu Yepala Primary School in the Sagnerigu District, Mohammed Ahmed, explains the school's management is only improvising in order to ensure that teaching and learning continues.
 "My office now has been turned into a classroom and I have put my table in the veranda as my office, this situation is affecting teaching and learning in the school," he laments.
Last month Action Aid Ghana presented quantities of building materials worth GHC 17,135.00 made up of 25 packets of Aluzinc roofing sheets, 100 bags of cement and 300 2x3 hard wood to the Sagnerigu District assembly to fixed the devastated schools following appeals it received from the assembly.
But the assembly is yet to dispatch artisans to the affected schools to fix the problems.
"Everything about this issue has to do with cash we are making efforts to fix the schools by next week or two to enable the children go about their classes without problems", said District Chief Executive for Sagnerigu, Alhassan Mohammed Sorugudoo