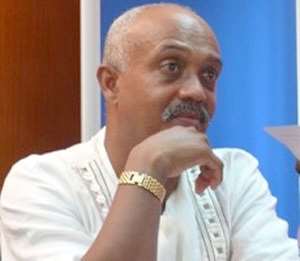 Hope soared on Saturday in West Legon.  I am in the neighborhood to meet a good friend and I can see four young girls at the side of the road, nearly opposite the gate where I will turn.
They are looking through notebooks and clearly comparing notes and having a conversation of sorts.  No phones, no iPads.
I turn and park in front of the large closed brown gate and toot my horn once.
I answer a call and getting into the conversation I see the group of four in the rear view mirror hesitatingly making their way to the car.
I roll down the side window and Cecelia, Serwaa, Abigail and very cute Amina (she will break some hearts in a decade) politely ask if I will support them with their school outing.
It will cost GH¢30 each.  I think GH¢120 I am not prepared to fork out, so I probe the event further.
It sounded genuine enough, but says Serwaa, (she is a head taller than the rest and team leader) 'we have already collected some, we have to contribute fifteen and the school will add the remainder.'
Ok, so this is now GH¢60.  Well, I can bite that on a Saturday morning, and I reach for my wallet.  I count GH¢60, before cute Amina, with laughing eyes, dimples and the most vivacious smile I have seen in decades, says, 'you don't have to pay for all.  We already have some, so you can help with anything more.'
Now I am thinking I have a group of honest young pre-teens, what more can I do to entrench this honesty?  Prevent them from growing into adult 'kwakyes'
They each have varying collections so I ask for simple subtraction calculations, deductions from fifteen so I can balance out; and amazingly, the arithmetic was spot on.  I fork out GHC34 for the cause.
Many thanks and they turn animatedly to carry on the quest.
'Serwaa, guys, wait.  Why are you guys all wearing red bands on your wrist?'
'Oh, we wore it to school yesterday, our mummy and daddy said it was RedFriday so we should wear it to school'
'Did they tell you why?'
'They said some people are asking the government to change some things in the economy because we are all suffering and it is for our future'.
'We decided to continue wearing it today and next week'
'Please you did not give us your name.'  Cecelia the accountant, 'we have to write it in our book.  And your phone number too please'.
I part with the confidential information and my paranoia is wondering, 'could they be BNI or National Security Operatives walking to trap RedFriday sympathizers?  Then I remember Gbevlo Lartey don commot dee.
But it was the call I got later in the day that crystallized my hope.
Unrecognizable number on the phone, strange voice on the other end.  'Is this Mr. Casely-Hayford?'  'yes'.  'Are you Sydney Casely-Hayford?'  'yes, who is this'?  'Are you the same one, who writes in the Daily Guide?'  'yes, who is this?'  'you don't know me, but my daughter Amina says you gave her money for her school programme and I was curious whether you were the same person.'
And so we had our RedFriday conversation.  Much respect to you Alhaji, I enjoyed talking to you and your decision to get the girls involved earned my respect.  Alhaji (that is the only bit of his name I can part with because of BNI/NSA paranoia) has six other children.  They all 'REDDIT' on Friday.
But I heard on good authority about government 'no red policy' on Friday.  Pity, but that is a decision to make if you can see the black hole in our day.
Just like how the 200 Ghanaians (other nationalities if you caught Ablakwabish on air) chose to stay back in Brazil and make their home there.  I can't blame Government for their decision.
Choosing where you stay is a personal matter.  If for whatever reason the 200 feel religiously persecuted in Ghana, or if the 'ecomini' is too harsh but they needed a better reason and so decided as a group of NDC party loyalists dispatched by Yammin to go and occupy some KVIP's there, the Brazilians have to deal with that.  It means two hundred less votes for the 'Great Party' come 2016.  And after their relatives join them there, it could be twenty thousand.
Kwakye Ofosu surpassed Ablakwabish in the search for a return to Neanderthal Ghana.  After reading a list of cut and paste material from previous budgets, he tried to pass it on as a non-response to the 'OccupyFlagstaff' initiative.  There is nothing to gain by all this, a waste of our time and resources.
We need to get into the RedFriday campaign.  As a body, I think Ghanaians are all concerned with what we can do to bring some sense to this governance.  We are constantly being reminded now that it is our collective citizen fault that things are not going right, and to some extent it is true.  We ended up with another NDC Government.
President Mahama should not hope that someone will come to his rescue with a Coup or some other instrument, collapse his government and make him a modern-day political martyr in Sub-Sahara Africa.
The Civilian Advocacy movement happening in Ghana today is not about intervening in Government; it is about changing, 'occupying' the hearts and minds of Ghanaians to prevent the madness we engulf in every four years, engage the people of this country in a more meaningful and exact way so we don't keep choosing a group of mediocre-capacity individuals incapable of thinking without factoring in their personal benefits from contracts.
What is simpler than following a set of guidelines crafted by a body of thought, which has consistently pointed out and suggested fixable solutions to the constrictions in our economy.  I am referring to the National Economic Forum at Senchi.  We are still waiting for PV to maybe resurrect and come and type up the fuller report for us, impliedly suggested by someone, who holds a PhD from a respected international university.  An educated man by all standards.
Instead we choose to label them 'challenges', trivialize the tasks and play on religious fanaticism by raising a finger and eyes skyward and inviting a slew of shylock priests to conjure the economy using 'levitronics'.
I am rather tired of the inertia that has engulfed our Governors, the impossible bottlenecks we have created and our fixation on mechanisms that only exist on paper.  We have all the rules and laws in place and unless we apply them to the letter and demand what should be ours by right, we will never move this country.
Kudos to Richard Nyamah, who won his case against Government to release mandated funds to GETFUND.  If that is what we have to do to free the system, then so be it.  We will test the mettle of the courts all the way to the Supreme Court if necessary, to ensure we get some justice and our freedoms are made sacrosanct.
Castro dead, Castro not dead.  Castro went with Mami Water.  Castro girlfriend was Mami Water, wanting to sleep with Castro to have more baby Castros.  Castro will be found on Friday coming if we all stop crying.  Such a load of nonsense in the 'De Sosoo' higher education learning Center.
Our mystery-loving nature has taken the possible Castro drowning at Ada to another level and I hear a Mallam from the North has been guaranteed much if his claims to bring Castro back become real.  I must admit, it will be something else if it turns to be a publicity stunt and Castro is back to make more music.
I like his style and songs, but it has been a week since he went under the water.  What are the chances?
Some of us have made a choice.  We have decided to challenge the drivel and pressure Government to make corrections to Governance that will make Ghana a better place to like and live.  We have a lot going for this country and it should not be the prerogative of a languid and corrupt cartel to keep us from a brighter future.
I am decidedly RED and I invite all those who read and agree with me to Red Band, clothe, scarf, blouse, sock, shoe, vest, tie or wear anything red to symbolize our disaffection with what is going in Ghana.  Every Friday till we decide otherwise.
Amina, Serwaa and the team decided to support their future.  It is and has always been a choice.
 
 Ghana, Aha a ye de papa.  A lius valde week advenio . Another great week to come!
 
Sydney Casely-Hayford, [email protected]