Occupant of the Golden Stool wants to retrieve compensation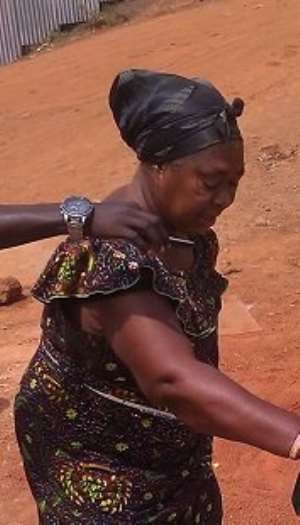 Obaapanin Adwoa Adowaa
Obaapanin Adwoa Adowaa
Kumasi, July 14, GNA - The Asaman Kani Royal Family, sole occupant of the Ashanti Golden Stool, has filed a writ at a High Court in Kumasi to retrieve GH¢ 110 million government compensation from Madam Akosua Achiaa, an extended member of the royal gate, and Nana Kwaku Duah, the chief of Kokose.
Obaapanin Adwoa Adowaa, 90, the head of Asaman Kani Royal Family, said Madam Achiaa, a resident of Kwadaso in the Metropolis and Nana Duah, allegedly falsified the documents to claim the amount.
An accompanying affidavit, filed by Nana Obiri Boahen of the 'Enso Nyame Ye Chambers' in Sunyani, counsel explained that the government unlawfully took over the 158.44 acre land (Second Brigade Complex-Ghana Army land) in Kumasi, which belonged to the Asaman Kani Royal family and agreed to pay the compensation to the family.
It said Obaapanin Adowaa initiated the payment processes which the Land Valuation Board on several consultations recommended that the money be paid to the family who are owners and title holders of the land.
However, the affidavit said the Ministry of Defence, the Attorney General and the Land Valuation Board, erred and facilitated payments to Madam Achiaa and Nana Kwaku Duah in 2011 who are not the rightful owners of the land.
It warned prospective buyers and estate developers that all that piece and parcel of land, particularly stretching from the Akuoso stream and the Subin River of the south, by Oda River on the east, Sukuo stream on the west and south-west by Denkyemuoso lands, belong to the Asaman family.
The Gyekye stream, Aburaso stool land, Aboabo stream, and on the north-west by the Owabi, Nyankerenease, Apatrapa, and Tanoso lands, the whole enclosing inter alia, Nwamase, Apire, Fankyenebra, Patasi and Kwadaso as well as the area popularly known as Sofoline or Old soldiers area, Kumasi belong to the plaintiff, the affidavit affirmed.
The affidavit added that the Asaman Kani Royal Family would find all legal means to protect its ancestral land in the Kumasi Metropolis and warned the public to be cautious whenever they intend to buy land.
GNA