Mallam Escapes Death Over Castro Hunt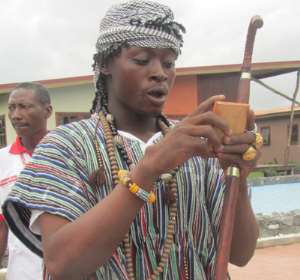 Theophilus Tagoe, who is known in the music industry as Castro and her friend have still not been found – one week after the tragedy had occurred on the Volta Lake where they were alleged to have gotten drowned.
Mallam Djeta, who had travelled all the way from Nsawam upon hearing about the disappearance of the two persons, had claimed that Castro was alive. He arrived at Aqua Safari where he met a team of police personnel and requested for permission to go and rescue Janet and Castro at the estuary since he said they were there.
The spiritualist's sudden appearance at the hotel from where Castro was said to have rented the Jet ski on that fateful Sunday, restored some hope in most of the sympathizers, indigenes, friends and fans of Castro – including those who do not believe in spiritual things.
He claimed he had three mermaids ('Maame Water'), but it was only one which could battle a another in the estuary – which he maintained had captured Castro as her spiritual husband who would father her three children over a period of three-years.
But such hope disappeared into laughter and provocation when after an hour-and-a-half Mallam Djeta failed to produce the missing persons, either dead or alive, having recited some incantations.
He entered the estuary after removing his smock and a pair of blue-and-white bathroom slippers, leaving his talismans around his neck.
Mallam Djeta began sinking, with his head and parts of his body showing as a result of a life jacket he had on. He began to scream for help.
After a while, a boat was called to where he was and without wasting time, the spiritualist climbed unto it, panting as if he had returned from a long race.
The spiritualist did not give up on his rescue promise. He   requested for a white ram, four bottles of Schnapps and white-and-red calico to perform some spiritual rites to prevent the mermaid from taking Castro deeper into the water.
He was directed by some angry witnesses to go to Peace Holiday Resort at Ada-Foah where Asamoah Gyan, the Black Stars skipper and his team who came to the area before the incident, were located and nothing was heard from him again.
 From Vincent Kubi, Kewunor