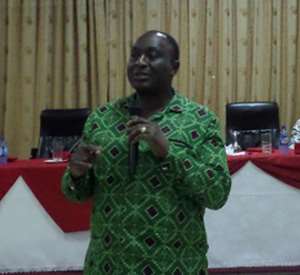 Alan Kwadwo Kyerematen
Alan Kwadwo Kyerematen
A PRESIDENTIAL aspirant of the opposition New Patriotic Party (NPP), Alan Kwadwo Kyerematen, has declared that the unity of the NPP is his number one priority and has therefore charged all those who claim to be speaking for him to be decorous and decent in their public pronouncements.
According to him, he has publicly demonstrated his utmost commitment to the NPP's unity and expects his colleague presidential hopefuls to also do same.
Addressing a press soirée of journalists in the Brong-Ahafo Region in Sunyani on Tuesday night as part of his campaign tour of the region, Mr Kyerematen defused public perception that there are tension and sharp divisions in the NPP.
'There is no cause for alarm in the party; we are all very good friends. All that you hear on the airwaves about the seeming tension and acrimonies in the party are not the realities on the ground,' he maintained.
Mr Kyerematen, who is seeking a third-time bid to lead the NPP as its flagbearer in the 2016 general elections, assured Ghanaians that the NPP has the power to prescribe antidotes to deal with the current economic crisis that the ruling National Democratic Congress (NDC) government has plunged the country into.
He said the NPP of which he is aspiring to lead, would build a robust economy and prosperous Ghana for all under his leadership since it has the pedigree to do so, based on its enviable track record during the eight-year rule of former President John Agyekum Kufuor.
He has, therefore, appealed to the party's delegates to offer him the opportunity to lead the NPP to help snatch power from the ruling party to realise the dream of what it has set for itself to do for Ghanaians.
Prescribing some solutions to arrest the current economic challenges, Mr Kyerematen indicated that the country needs an economic plan that should anchor dealing with the fast devaluation of the cedi, arrest inflation, initiate policies to bring down interest rates and plan to reduce government borrowing and budget and fiscal deficits.
Without those, he said, there is not going to be any meaningful economic development in Ghana, saying, 'This is the economic development plan that the NPP wants to embark upon to transform Ghana.'
To bring down lending rates, Mr Kyerematen advised the government to reduce borrowing, especially domestic borrowing to enable the private sector to borrow at low interest rates from the banks.
He advised the Central Bank to bring down its policy rate to a single digit. By so doing, the banks could also lend to the private sector at very low interest rates so as to be more competitive.
The NPP presidential hopeful wants prudent measures introduced to maintain the value of the cedi by diversifying the economy by increasing export and reducing import.
FROM Fred Tettey Alarti-Amoako, Sunyani
[email protected]