Your Blood Group Should Decide What You Eat—Dr. Brown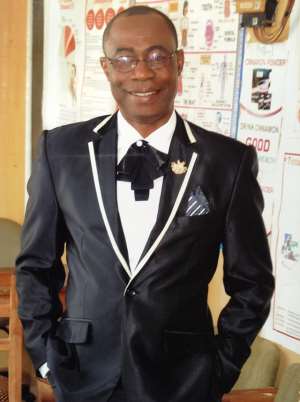 Dr. Brown Osei Konadu
The President of Blood and Genotype Awareness Foundation-Ghana, Dr. Brown Osei Konadu, has set the records right over one of the controversial claims in the world of health, which is, the right food for an individual's good health depending on his or her Blood group. He, has therefore, stated that ''your Blood Group should decide what you should eat because every blood group has its unique qualities and characteristics" and for that matter,each type should go with its right food, water and exercises.
Dr. Brown explains that one's blood type influences his or her personality, and that a drop of a person's blood contains a biochemical make up which is as unique as the fingerprint.That knowing the blood type is a key to unlocking the secrets of an individual's biochemical make up."The foods we eat contain something called lectins that interact with our cells based on your blood type and this explains why some nutrients which are beneficial to one blood type, may be harmful to the cells of another person".
Factualizing his assertion,Dr. Brown Osei said it had been discovered that the characteristics of people with blood group 'O' and 'B' are almost the same in their description under acidity and alkalinity, and similar relationship exists between blood type 'A' and 'AB' under the same categorization.That Type 'O' and 'B' are acidic people whilst 'A' and 'AB' are alkaline. Therefore, type 'O' and 'B' individuals should take foods and water that are 70% alkaline and 30% acidic.But blood groups 'A' and 'AB' should dwell on 70% acidic and 30% alkaline food.
However, he stressed that going into specifics, type 'O' people for example,have higher level of stomach acid than type 'B' and that due to this situation, the blood type 'O' people often get stomach irritation and ulcers because when they eat foods that are acidic, it adds up to the existing acid and cause the harm.But because these sufferers do not know, they keep on increasing their acidic levels as they continuously take foods and water that are acidic.So he advises that people with type 'O' blood should not take foods or water that are acidic.
Meanwhile, the CEO of the Kumasi-based Holy Covenant Health Center reveals that people of Type 'A' have a sensitive immune system and should eat meat-free diet which should include vegetable, fruits, legumes,and whole grains, that are organically cultivated.Those of Type 'AB', according to Dr. Brown Osei, have low stomach acid and do not have problem with eating acidic foods but should eschew eating foods like smoked meat, caffein.That the 'AB' type can take sea food, diary and vegetables.
On Blood Type 'B', Dr Brown stated that chicken, corn, wheat, lentils, tomatoes, peanuts, and sesame seeds are not good for them,they must not eat them. They should eat green vegetables, eggs, and low-fat dairy, he added.
He continued that the character of people as well as their predisposition or resistance to certain illness stem from their blood type.That researches have been carried out by several renowned scientists which he has also replicated and found out that people with Blood Type 'O' are susceptible to several diseases but in character wise, they are very active in all their endeavors and are easily sociable.Type 'A' people are intelligent but always feel reluctant voicing out their ideas or sharing their intelligence, they only do under duress."AB'' group persons are calm and very creative.
The President of Blood and Genotype Awareness Foundation-Ghana (BGAFG)and CEO of Holy Covenant Health Center, Dr. Brown Osei has capitalized on his findings on the relationship between one's blood group and what he or she must or must not eat, to caution all persons not to solely rest on taking medications as the only way of treatment since most of the ailments people suffer from are due to wrong diet in varying means. And that people should embrace the discovery which some scientists have proven right several years back, and check their blood groups and then eat in accordance with their true natural traits for good health and long life.
He however, commended the CEO of Angel group of companies, Dr. Kwaku Oteng for his support towards the sensitization activities embarked on by (BGAFG) in Ghana.