Can All 200 NDC Asylum Seekers In Brazil Be Liars?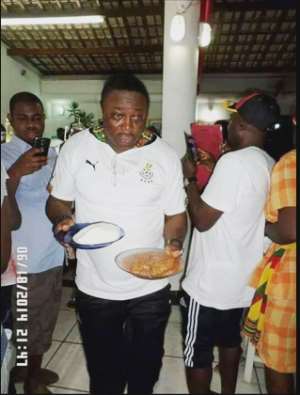 I don't know what Justice William Atuguba thinks of the current mess into which the Supreme Court presidential election petition panel over which he presided has plunged the country; but it is almost certain that if, indeed, the man is possessed of a good and remarkable conscience, he must be squirming and scratching his head - and whatever strands of hair may be left on his scalp - at the Election 2012 Decision which, in all likelihood, may well go down the annals of Ghanaian jurisprudence as his greatest contribution and legacy to the development, or otherwise, of judicial justice in the country. Not that it really matters, anyhow, at this juncture of the raging socioeconomic and political crisis in the country.
Of course, I am not also in any way hereby necessarily implying that the petitioners put up the best possible case for electoral redress. The best approach, clearly, would have been for the three primary petitioners to have demanded the scrapping of the entire results of the December 2012 general election and have it rerun. I am only suggesting here that his teary insistence on presideing over the landmark petition and all, ultimately, Justice Atuguba and his associates proved themselves to be the most treacherous enemies of the hardworking and well-meaning and forward-looking Ghanaian voter.
Undeniably, of course, the latest outcome of the Atuguba decision has some 200, largely National Democratic Congress (NDC) supporters, earnestly seeking asylum in Brazil for what these so-called party foot-soldiers claim to be a bitter religious conflict raging in Ghana that threatens the lives of the Muslim minority in their predominantly Christian-oriented country. An estimated 16-percent of Ghanaians are known to be of Islamic persuasion.
The irony here is that the very government that claims to have sponsored these asylum seekers to Brazil for the express purpose of squad-cheering the senior national soccer team, the Black Stars, primarily because these supporters were also deemed to be the staunchest of party loyalists, to speak much less of the most patriotic Ghanaians, is now also insisting that these asylum seekers are perhaps the most criminally mendacious of Ghanaian citizenry and ought to be promptly deported by the Rousseff government in Brasilia.
The question at this juncture, logically, becomes as follows: Should the Brazilian government go straight ahead and summarily effect the arrest and deportation of these "NDC-200," merely because their home government says so? In other words, don't these asylum seekers deserve a fair hearing before any such decision could be taken? And then, also, just what guarantees and/or assurances do we have that should these asylum seekers be deported back to Ghana, that a deeply mortified and embarrassed government would not initiate criminal and punitive proceedings against them?
I mean, we are talking about the government of a political party that was founded by the most extortionate and murderous dictator in Ghana's postcolonial history. Already, even as I write, some comfortably placed Ghanaian citizens are demanding that the Mahama government publish a list of all Ghanaian citizens sponsored to the 2014 World Cup.
The scarcely veiled pretext here, of course, is that if the government could, somehow, cook up the claim that those seeking asylum in Brazil are, in fact, self-sponsored members of the main opposition New Patriotic Party (NPP), then, of course, any obstacles militating against President Mahama's chances of clinching a second term in office would be effectively quashed.
I don't know, and neither do I think, that Brazil's President Dilma Rousseff and her government ought to be taking their marching orders from her Ghanaian opposite number and his minions.