CHEM Lauds Mahama Ayariga's New Appointment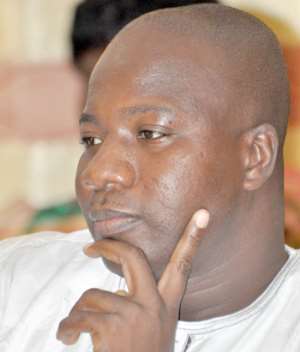 Mahama Ayariga
The Center for Human Empowerment (CHEM) has commended His Excellency President John Dramani Mahama, for reassigning Hon Mahama Ayariga as the Minister for Youth and Sports.
In a press statement issued in Accra and jointly signed by the Center's Executive Director, Mr. Adam Fatah and Director for Communications, Mr. Ali Issah, described Hon. Ayariga's appointment to the Ministry of Youth and Sports as a new dawn in Ghana's sporting annals with great potentials.
''His reassignment to the Youth and Sports ministry at this very time is very critical and of great interest to Ghanaians particularly the youth'', the statement continued.
Hon. Mahama Ayariga according to the statement goes to the Ministry, with enormous experiences as former Assembly Member, former President's Spokesperson, former Deputy Minister and Minister.
The Ministry, the Center indicated is often seen as a Black Stars or football ministry rather than a ministry mandated to champion broader government policies and programs on youth and sports in general.
As Ghanaians await the outcome and recommendations from the 3-Member committee tasked to investigate the circumstances leading to Ghana's participation in the Brazil 2014 FIFA World Cup, it is critical on Hon. Ayariga's success to see to the comprehensive implementation of the Committee's recommendations.
As we share the sentiment of Ghanaians on football, resources should equally be shared to the youth focused programs and other sports disciplines. Government stands at a good position to create jobs and employment through sports and youth development.
As a season lawyer, we encourage Hon Ayariga to fast-track the passage of the GYEEDA law to bring sanity in the operations of GYEEDA and put smiles on the faces of the youth of the country.
''Hon Mahama Ayariga's competency and capacity is encouraging, as such, we urge Ghanaians, more especially the youth and sports enthusiast to support him to succeed in his new capacity as the political head of Youth and Sports Ministry''.
Hon Mahama Ayariga is the Member of Parliament (MP) for Bawku Central in the Upper East Region. He is a product of the University of Ghana, Harvard University, USA and Ghana Law School.
He was appointed as the President's Spokesperson in 2009 during the regime of the Late President John Evans Atta Mills. He later became the Deputy Minister at the Ministries of Trade and Industry and Education respectively. After the 2012 election, President John Mahama appointed Hon Mahama Ayariga as the Minister for Information, the press release concluded.