Catholic University Wins Entrepreneurial Awards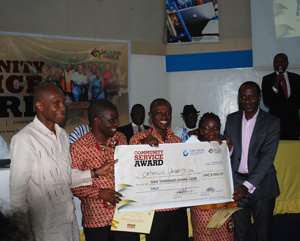 Team Catholic University pose with some dignitaries
Team Catholic University, made up of three students, was adjudged winner of the 2014 Osei Kusi Foundation (OKF) Community Service awards held at the British Council Hall early this week.
The three students, Amoah Priscilla Agyeman (Level 200), Agbesi Worlanyo Koku (Level 100) and Amponsah Michael (Level 300), received GHc9000 as project award and an additional GHc 2500 for their personal costs.
The team (Catholic University) presented a bakery project for the youth of Nankitiwa, a deep rural community in the Brong Ahafo region.
The team mates said they were moved to come out with the project in view of the plight of the people living in the community.
They argued that having taken a number of factors into consideration and which would be cheap enough to benefit the people, they settled on a community bakery centre.
Team University of Ghana came second. They presented a library renovation project for the people of Senya Breku in the Central region while the Kwame Nkrumah University of Science and Technology (KNUST) came third with an e-Waste Project for Agbobloshie, Accra.
The CEO of Osei Kusi Foundation (OKF), Kofi Osei-Kusi, in a speech, said the Community Service Awards was introduced by the Foundation in 2014 in partnership with Selfless 4 Africa Incorporated, a US-based Non Governmental Organization (NGO).
He explained that the awards scheme, a key component of OKF, which was founded barely three years ago, among other things seeks to encourage the youth to be selfless, innovative and commit themselves to supporting people living in deprived communities.
Mr. Kofi Osei-Kusi was happy that the 2014 awards scheme received 20 applications from the country's tertiary institutions.
The CEO said plans were far advanced to cut the sod for a multifunctional three-storey Youth Development and Resource Centre at Oyarifa, Accra.
He said the resource centre would serve as a hub for implementing OKF's goal of investing in young people to develop entrepreneurial skills development.
Mr. Osei Kusi was happy that the Foundation had touched over 50,000 lives through its rural outreaches, mentoring, coaching and wealth creation programmes, stressing that no matter the cost or sacrifice, the Foundation would continue to champion the cause of helping young people achieve the goals for life.
The Director In charge of Tertiary Education at the Ghana Education Service (GES), Donnan Tay, who represented the Minister of Education, said volunteering was an overall great experience.
He said it gave the volunteer the opportunity to learn as well as expand the world view as people's lives get transformed for the better by their interventions.
The Director said volunteerism also contributed to the economic growth of developed countries as at least over 20million volunteers every year donated more than 100million hours every week, with their economic value being 40million pounds.
He urged the winning team to ensure that the grant was disbursed in such a way as to reflect in a total transformation of the target groups.
By Solomon Ofori