Algeria seeks meeting on Mali crisis next week: minister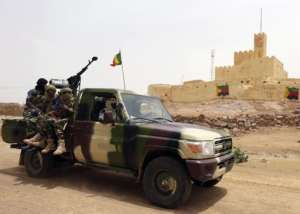 Malian soldiers patrol in Kidal on July 29, 2013. By Kenzo Tribouillard (AFP/File)
Ouagadougou (AFP) - Algeria has proposed a regional meeting next week to tackle conflict in Mali after talks with Burkina Faso's leader, who has been mediating in the troubled west African state.
"We offer to launch the initial phase of an inclusive inter-Malian dialogue on July 16 in Algiers, in the presence of ministers from countries in the region," Algerian Foreign Minister Ramtane Lamamra said late Wednesday in Ouagadoudou.
"Our role is... to enable Malians themselves to speak directly to each other and envisage the most appropriate solutions to help them," Lamamra said after meeting Burkina Faso's President Blaise Compaore.
Algeria, experienced in fighting armed extremism, has become increasingly involved in diplomatic efforts to bring peace to neighbouring Mali.
The north African nation shares a long border with the sub-Saharan state, which has been troubled by Islamist insurgency and uprisings by the traditionally nomad Tuaregs of the desert.
Compaore, whose country lies to the peaceful south of Mali, was appointed mediator by the Economic Community of West African States when conflict erupted in 2012, but Algeria has of late taken the lead.
"The stability and security of Mali is inseparable from that of our two countries," said Lamamra, adding that Algeria and Burkina Faso were "on the same wavelength" regarding Mali's problems.
Compaore said late last month that "Malians want reconciliation".
Late in May, fresh fighting erupted in northern Mali, pitting the army against armed groups including the Tuareg separatist National Movement for the Liberation of Azawad (MNLA), as well as Arab forces.
In a deadly offensive, the MNLA seized control of their traditional Tuareg bastion in Kidal, one of the three main towns in the desert north, 1,500 kilometres (900 miles) northeast of the capital Bamako.
As current chairman of the African Union, Mauritania's President Mohamed Ould Abdel Aziz on May 23 brought about a ceasefire between the government and the armed movements, which has held.
Algeria has since hosted informal talks with the MNLA and two other groups that lay claim to the desert territory they call Azawad, which led to an "Algiers Declaration" in which the rebel movements demanded "inclusive" peace and political talks with Bamako.