Africa International Business Consultancy Woos Italian Investors To Ghana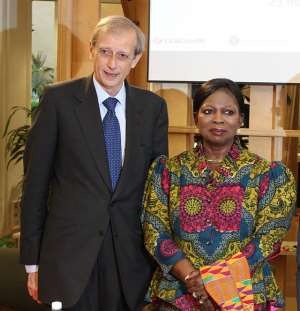 Africa International Business Consultancy with collaboration with the Embassy of Ghana in Rome, Italy, Consulates of Ghana in Torino and Palermo has organised a day Trade and Investment Promotion business fora in Torino and Palermo on 23rd May and 4th June, 2014 respectively. The fora were aimed at informing Italian Investors about Investment opportunities in Ghana as well as up-coming Ghana/Italy Trade and Investment Fair scheduled to be held in Accra at the Ghana International Trade Fair from 25 to 30 November, 2014.
The Torino forum which was formally opened by Her Excellency Mrs Evelyn Anita Stokes-Hayford, Ambassador of Ghana to Italy and the Mayor of Torino, Mr. Piero Fassino was well attended by over 250 industrialists, company representatives, co-operate brodose, bank eros and individual entrepreneurs. Present were Mr. Simon Atieku, Counsellor in charge of Political and Economic Affairs in the Ghana embassy in Rome, Ms. Licia Mattioli president industry union Torino branch, mr. Alessandro Barberis presidente of the chamber of commerce in Torino, mr. Vittorio Torazzi lawyer from the prestigious VTCS low firm and many others
In his opening remarks, the Ambassador of Ghana to Italy stated that Ghana and Italy were not strangers to each other. The two countries, she said have a long history of fruitful cooperation in all fields dating back to Ghana's independence era. She pointed out that Ghana has enjoyed a stable multi-party political environment for over two decades with continuous macro-economic stability and investors would not regret doing business in the country. She advised Italian Investors to take advantage of Ghana/Italy Trade Investment Promotion Fair being organised in Accra by Africa International Business Consultancy (AIBC).
Counsellor in charge of Political and Economic Affairs of the Embassy of Ghana in Rome Who took the participants through the presentation with graphic illustrations, comprehensively sold a compelling story about Ghana- enough to convince any investor to invest in the country. His list of investment opportunities touched on oil and gas services, Energy, infrastructure, agriculture, manufacturing, Tourism, ICT and financial services. He also took time to explain to participants the role of the Ghana Investment Promotion Centre (GIPC) and investment procedures, incentives and guarantees available to foreign investors.
The Chief Executive of Africa International Business Consultancy (AIBC), Ms. Freda Cooper in her statement told the participants of the importance of the Ghana/Italy Trade and Investment Promotion Fair, saying that it would create a platform for Italian Investors to meet their Ghanaian counterparts operating in the various sectors of the economy of Ghana. She stated that she was collaborating with relevant institutions in Ghana and Italy to make to above-mentioned Fair a success.
She mentioned that her outfit would provide accommodation, external and internal transportion, feeding and arrange for one on one business discussions among entrepreneurs for participants. On this note, Ms. Cooper urged Italian Investors to take advantage of the Fair to penetrate the Ghanaian market. To get further information regarding the Fair, she told participants to visit the website of Africa International Business
Consultancy
www.aibcltd.com
[email protected]
[email protected]