Road crashes kill 62 in V/R this year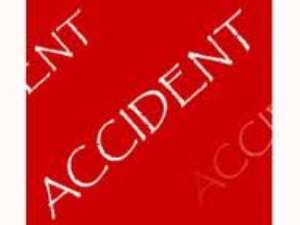 Accident speeding
Ho July 8, GNA - A total of 62 persons were killed in road crashes in the Volta region in the first half of 2014.
According to figures the Ghana News Agency (GNA) obtained from the National Road Safety Commission (NRSC) in Ho, the number is one more that the 61 recorded for the same period in 2013.
There were 26 deaths, an increase from 15 in Keta, while Kete-Krachi moved up from two cases to five for the same period.
Ho, Hohoe and Tongu districts however recorded decreases; Ho recorded 10 deaths as against 14 and Hohoe down from 14 to eight, road accident deaths in the Tongu districts also went down from 16 cases to 13 during the same period in 2013 and 2014
Ms Joan Fafa Ayer, Assistant Planning Officer of the NRSC in the Volta region said the increases in cases at Keta and Kete-Krachi were due to activities of commercial motorbike operators.
She said the situation had prompted the Commission to declare a six-month crash helmet enforcement exercise from June to December 2014
GNA EN-GB X-NONE X-NONE