Food from the skies to stave off South Sudan famine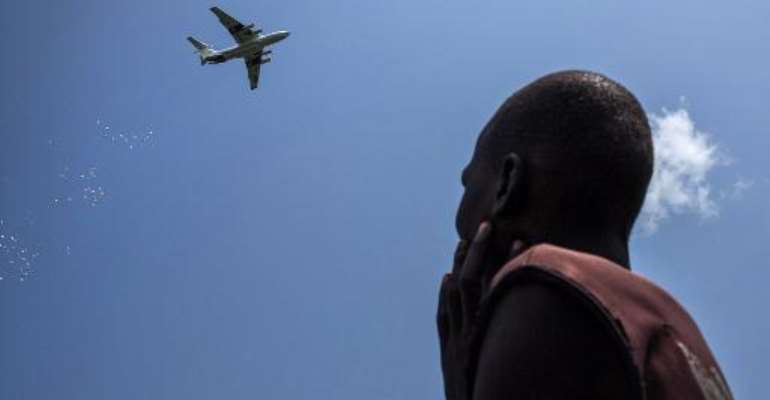 Leer (South Sudan) (AFP) - Tumbling from the cloudless sky, hundreds of huge white sacks rain down on the South Sudanese town of Leer with a thundering sound, drowning out even the roar of the giant aircraft's engine above.
In war-torn South Sudan, where manmade famine looms, the sacks of grain are a matter of life and death for the thousands here who lost all they had when they fled into the bush to escape months of intense fighting.
"For all this time, there was no other means of getting food," said 40-year old widow Nyalony Nyak, who had waited patiently for hours beneath the fierce sun for the airdrop, made by the International Committee of the Red Cross (ICRC).
Aid workers say South Sudan, which celebrates its third anniversary of independence on Wednesday, faces famine within weeks if aid efforts are not scaled up massively.
In Leer, a remote and rural community in the northern oil-rich Unity state, one the worst battlegrounds in nearly seven months of civil war, the population would be starving without such expensive deliveries.
People spent four months in the bush after fleeing fighting between government and rebel forces, with reports of massacres and atrocities.
Here, not far from the vast Sudd swamps of the White Nile, the trees are green and land is fertile.
But people lost everything in the war -- food stores, homes and livestock -- making the ICRC drops the only source of survival.
- 'The last resort' -
With heavy rains, mud roads are impassable, making expensive air drops the only way to reach this remote land.
"It is really the last resort to choose this tool as way to distribute food," ICRC chief in South Sudan Franz Rauchenstein said, warning of "alarming signs" of malnutrition, especially among children.
The last time the ICRC airdropped food was almost two decades ago in Afghanistan.
"Now the situation is such that we have to do it again," Rauchenstein added.
Aid workers warn of the dire situation in the country.
"The humanitarian situation in the country is deteriorating very rapidly in some places," said Aimee Ansari, head of the CARE aid agency in the country.
She described people walking for days to UN camps just to get something to eat.
"It's a terrible situation," she said.
For Nyak, the airdrop means she and seven children, aged between three and 18, get basic rations to last three weeks, including some 30 kilogrammes of sorghum, 10 kilogrammes of beans as well as sugar, salt and cooking oil.
"It's little, but so much more than before," she said, adding that previously she scavenged for water lilies and hunted tiny animals to eat to survive.
Villagers have also eaten their cows -- their most treasured possessions and killed only as a last resort -- when they fled fighting.
When they returned home, their homes -- traditional thatched huts -- had been razed to the ground.
"When we came back, the house was burnt, there was no food in the area," she said.
Aid agencies, including hospitals run by Doctors Without Borders, (MSF) were looted, including in Leer.
The hospital here was looted and torched, and at a basic clinic MSF has since set up, a dozen emaciated children watched over by their mothers, lie on mats on the ground. The beds were also stolen.
While large scale fighting countrywide has calmed since May -- torrential rains have also hampered military assaults -- hunger is now beginning to bite deeply.
Nearly 100,000 people have fled terrified into UN peacekeeping bases since December.
Signs of hope are few.
At a little garden, around the remains of burnt huts, Nyak has planted maize corn seeds -- purchased at a high price --- as well as sorghum from the ICRC.
The maize is nearly mature.
"At least we have a little improvement, but given the number of people at home, it will not last," Nyak said.
"It will take time before you can buy a new cow, return to a normal life. For now, we're just trying to find something to eat for the children."