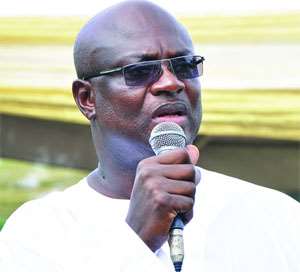 Kojo Bonsu, KMA Boss
THE BEREAU of National Investigations (BNI) is poised to investigate the Presiding Member (PM) of the Kumasi Metropolitan Assembly (KMA,) Nana Kofi Senya, DAILY GUIDE has been hinted.
The PM is alleged to have involved himself in a dodgy land deal at New Suame sometime ago where he benefitted from a handsome financial reward at the expense of the assembly.
Nana Senya was alleged to have collected some money from some individuals in the name of the KMA, which he allegedly used to build shops at New Suame, on a pre-finance basis on a piece of land which had been earmarked for a sanitary site.
The KMA PM is said to have entered into an agreement with the tenants who had rented the shops – also in the name of the KMA.
All this while, the tenants were of the conviction that they were operating in facilities belonging to the KMA.
Concerned Citizens of New Suame (CCNS) brought the matter to the attention of the Kumasi Mayor, Kojo Bonsu, who in turn referred the case to the Complaints Committee of the KMA and the Suame Sub-Metro to investigate.
The Kumasi Mayor again referred the case to the BNI to investigate further and apply the necessary sanctions after the KMA Complaints Committee and the Suame Sub-Metro had presented their findings which seemed to indict the PM.
A source at the KMA disclosed to DAILY GUIDE that on May 21, 2014, CCNS petitioned Mr. Bonsu about the alleged fictitious deal by Nana Senya.
The source indicated that on some of the documents, Nana Senya signed as the Assemblyman of New Suame, whilst he also signed on other documents as the PM of the KMA.
Meanwhile, Nana Kofi Senya has confirmed to DAILY GUIDE that some people from Suame recently accused him of wrongdoing for building shops at New Suame.
He said those people petitioned the Kumasi Mayor who in turn ordered for a probe.
Nana Senya said, 'If the Mayor had decided to invite the BNI to investigate the case further, then so be it. The BNI would at the appropriate time invite me for my side of the story.'
He refused to give further details of the allegation saying, 'I will state my side of the case when the BNI invites me.'
FROM I.F. Joe Awuah Jnr., Kumasi