Ethics Committee meets two men exposed by undercover investigation to fix Black Stars friendly matches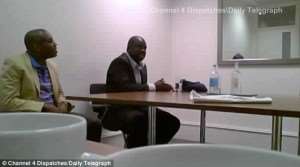 The Ethics Committee of the Ghana Football Association will meet the two men exposed by a British media undercover investigation to pre-arrange Black Stars friendly matches on Tuesday afternoon," GHANASoccernet.com can exclusively report.
Messrs Christopher Anton Forsythe and Obed Kwame Nketiah were filmed claiming they will fix a match involving the Black Stars and bribe the federation's officials.
The committee wants to find out if truly they were bent on achieving their target.
The pair has been granted police bail while their statements over the match-fixing scam were taken and travel restrictions placed on them to allow investigators question them whenever they are required.
Broadcaster Channel 4 and the Daily Telegraph reported the allegations a day after Ghana's thrilling 2-2 draw with Germany at the World Cup.
They allege a FIFA-licensed match agent Forsythe and Berekum Chelsea CEO Nketiah offered to arrange for friendlies involving the national team to be fixed.
A contract they handed to the president from the undercover reporters said that Diamond Capital would have been involved in choosing the referees, which is barred by Fifa because officials can influence games and results.
They also bragged they needed $30,000 to bribe Ghana FA officials to get them to agree to the deal.