Chief Converts Palace To Court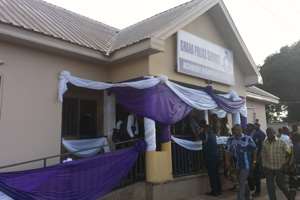 The conversion process in progress
The conversion process in progress
THE ASOKORE Mamponghene, Nana Boakye Ansah Debrah, has announced the conversion of his old palace into a court to help in the smooth adjudication of cases in the area.
The chief indicated that the completion of extensive works and eventual opening of the court building project would go a long way to help maintain law and order in his area.
Nana Boakye Ansah Debrah was speaking at the official opening of a police station which he had constructed to improve the security situation of Asokore Mampong and its nearby areas.
DCOP Kofi Boakye, the Ashanti Regional Police Commander, commended Nana Boakye Ansah Debrah for his foresight to build the police station, adding that security of the place would be boosted with the opening of the police station.
He also praised the MCE for Asokore Mampong, Nurudeen Hamdan, for setting up a watchdog committee of 50 members, to help fight crime in the area.
Hon Hamdan also announced that some hoodlums who previously terrorised innocent people in the area have been chased out of their den.
The Asokore Mampong MCE applauded Nana Boakye Ansah Debrah for his development-oriented nature, adding that residents in the area can now go about their normal businesses.
FROM I.F. Joe Awuah Jnr.,
Kumasi.