Social Security and National Insurance Trust begins Biometric Registration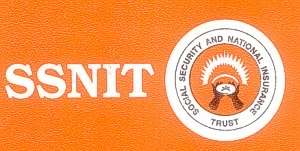 SSNIT logo latest
Legon, July 06, GNA - The Gulf House branch of the Social Security and National Insurance Trust (SSNIT) on Thursday begun the biometric Registration for the members of the University of Ghana Pensioners Association (UGPA) at the Grounds and Gardens premises on Legon Campus.
In an interview with Ghana News Agency, the Assistant Registration Officer from the SSNIT Gulf House, Mr. Emmanuel Kanga said the exercise had been embark throughout the whole country to register all pensioners in the country so that they will be able to serve the pensioners very well.
He said after registration, within one month pensioners would get their identity cards and   that would enable them slot into   machines which would be provided at the various recipient banks to check their statements of account.
The biometric exercise had requested for pensioners to provide their SSNIT numbers, Home addresses, date of birth, phone numbers and where they live to enable them complete their particulars.
Within the two days exercise, 128 pensioners out of 300 were fully registered by the close of Friday.
According to Mr. Emmanuel Kanga, the biometric registration exercise would be completed by Wednesday next week.
The Chairman of the University of Ghana Pensioners Association (UGPA) Mr. Emmanuel Asagba told the GNA that the SSNIT biometric registration was smoother than that of the biometric Registration for the Superannuation Pensioners which was carried out in May this year.
He was very happy that the biometric registration when completed would go a long way to reduce ghost names on the pensioners payroll in the country.
Similarly exercise is being carried out at the SSNIT Office at the Gulf House at Shiashie, a suburb of Accra.
GNA