Let's come together to solve the economic crunch - Rev Dr Frimpong-Manso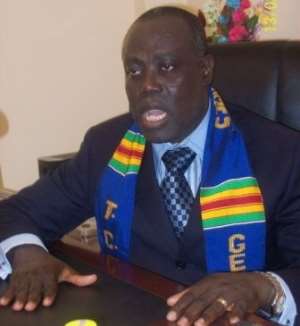 Rev Dr Paul Frimpong-Manso
Sunyani, July 7, GNA - Reverend Dr Paul Frimpong-Manso, General Superintendent of the Assemblies of God (AG) Church, at the weekend said all hands are needed on deck, to find a lasting solution to the national economic crunch.
'The dwindling economic situation required a collective partnership and contributions from all political parties to save the country', he said.
Rev Dr Frimpong-Manso was speaking at a farewell service in honour of Rev Dr Emmanuel K Mensah, the immediate past Brong-Ahafo Regional Superintendent of the AG cChurch in Sunyani.
He explained that Ghana had reached a stage in its democratic dispensation where an all-inclusive government was needed.
The General Superintendent noted that until successive governments change their mindsets, admire, appreciate and recognize the contributions and achievements of their predecessors, the country would not progress.
Rev Dr Frimpong-Manso noted with regret that the country had been divided along partisan lines, and that was seriously pushing back its level of development.
He emphasized that it was the entire Ghanaian population that suffered the economic turn down,   and it would be in the supreme interest of the nation if political parties came together to find lasting solutions to matters of national concern.
Rev Dr Frimpong-Manso appealed to churches and religious organizations to ensure and maintain an effective partnership with government to facilitate accelerated national development.
He said it was very unfortunate that some political parties which could help transform the economy, sat unconcerned, though it was the ultimate goal of every political party to ensure that the living conditions of all Ghanaians were enhanced.
Rev Dr Frimpong-Manso also advised government to open up and embrace ideas, suggestions and constructive criticisms from opposing political parties.
Rev Felix John Yeboah, Brong-Ahafo Regional Superintendent of the AG, in a goodwill message, attested that the leadership roles of Rev Dr Mensah brought drastic transformation in all areas of the church in the region.
'He was very pragmatic in his administrative style, and in times of difficulties would simply say it would be well because God was in control', he added.
Rev Mensah thanked the church for the support since his 16 years as the regional superintendent and more than 30 year's service to the church.
GNA EN-GB X-NONE X-NONE