Mantrac Improves Service Delivery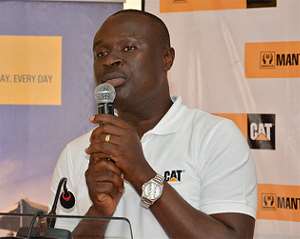 A business desk report
Felix Ofosu-Kontoh, National Parts Sales Manager- Mantrac Ghana
Mantrac Ghana, the sole authorized dealer for caterpillar products in Ghana, has introduced another innovation in the construction industry.
According to Daniel A. Pabby, Head of Marketing and Strategic Planning, 'My Mantrac,' an online Parts and Equipment Management Portal, is aimed at using e-Commerce to enhance quality service delivery, faster parts ordering process, and helping customers to proactively monitor their CAT machines to avoid down time and operating cost.
He said Mantrac is consistently looking at innovative ways of supporting and maximizing customers' investments.
'Our years of experience give us the opportunity to continually introduce very innovative systems to meet the expectations of our customers. Our research indicates that spare parts availability is very high on the priority of our customers, as such we stock not less than $25m worth of inventory with 94% availability.'
This is comparable to non in the industry. This is what culminated into the development of the online Parts and Equipment Management Portal, www.mymantrac.com to consolidate our market leadership position.
A demonstration on 'My Mantrac' revealed that customers now have the opportunity to order Cat spare parts, check availability and prices in two minutes on their smartphone, tablets or laptop from anywhere in the world.
Customers can also monitor all their Cat Fleet and know in real time and their exact location, fuel utilization, working hours.
Commenting on the portal after the launch, the National Parts Sales Manager, Felix Ofosu-Kontoh stated, 'The initiative is built on making service delivery more efficient, interactive and effective after-sales support to our customers, all efforts are being made to reduce the waiting times for parts orders.
Furthermore, it will help save time and money by significantly reducing clients' equipment downtime and ownership cost and improving knowledge on equipment health.
A business desk report