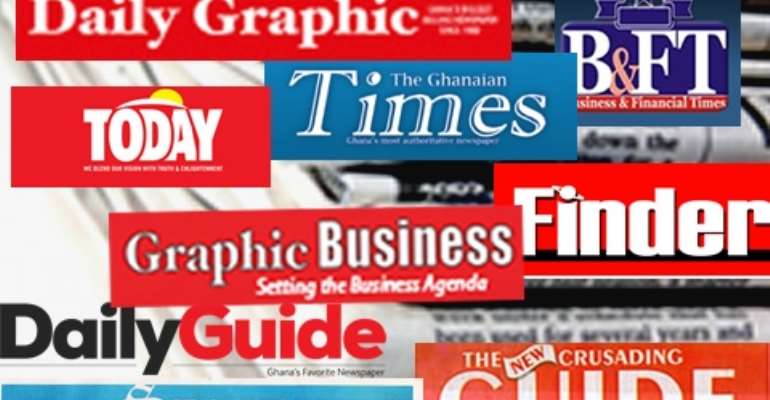 MAHAMA CRITICISM HITS CRESCENDO
Pressure on President  John Mahama to tackle deteriorating economic conditions has built up to a crescendo, after Tuesday's public protest was followed by statement from the Trades Union Congress reprimanding government government for its inability to ease the hardships of Ghanaians.
FUEL SUBSIDY DEBATE: LET'S BITE THE BULLET - ACEP
To avoid a recurrence of fuel of fuel shortages, the petroleum downstream sector must be deregulated fully and government must stop absorbing the difference when prices go up, the African Centre for Energy Policy has said.
TAX HOLIDAYS FOR FOREIGN FIRMS DON'T HELP
Granting tax holidays for foreign companies to the detriment of their local counterparts will not help develop the economy, Nii Kotei Dzani, Group Chief Executive Officer of Ideal Financial Holdings Limited, has said.
CEMENT SHORTAGE HITS GHANA
Ghana may be hit win an acute shortage of cement soon. This is because the third largest supplier of cement in Ghana, Dangote cement has for some weeks suspended its imports to Ghana because of the fast depreciating cedi.
LOCAL CONTRACTORS LOST BIG PROJECTS
Ghanaian contractors are gnashing their teeth as they lost out on big projects to their foreign counterparts.
CASTRO IS DEAD; DROWNS WITH GIRL
News broke in Accra yesterday afternoon about the death of hip-life artiste, Castro who reportedly drowned in the Volta River at Adal Foah after a failed attempt to save a drowning female friend believed to be his lover.
NANA IS FIT, FILES TODAY
The Nana Akufo-Addo campaign team has dismissed media reports claiming that the 2012 presidential candidate of the New Patriotic Party is standing down in the impending flagbearership race of the party.
CHAOS AT MAAMOBI
The Maamobi suburb of Accra was Saturday night thrown into chaos when an angry mob vented their spleens on a local restaurant, Marwako, setting it alight alongside three vehicles.
LISTEN TO VOICE OF GOD - PALMER-BUCKLE ADMONISHES PRESIDENT
The Metropolitan Archbishop  of Accra, the Most Reverend Charles Gabriel Palmer-Buckle, has asked President John Dramani Mahama to listen to the voice of God and not that of men in the performance of his duties.
CASTRO FEARED DROWNED
Unconfirmed reports reaching the Daily Graphic indicate that hiplife artiste, Theophilus Tagoe, aka Castro, has drowned in Ada.
ECONOMIC CRISIS HITS BANK DEPOSITS AS BANKS RECORD DRASTIC DROP IN SAVINGS
The country's deepening economic crisis is impacting negatively on the ability of Ghanaians to save.
HFC IS BEST STOCK ON GSE THIS YEAR
Indigenous bank, HFC is the best performing stock o the Ghana Stock Exchange for the first half of this year.
[MORE TO FOLLOW SOON]