Unemployed Jailed Over Handcuffs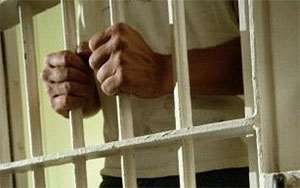 An Accra Circuit Court yesterday sentenced one Francis Afful to five years' imprisonment in hard labour for illegally possessing police handcuffs.
The handcuffs were found on the accused person on June 5, 2014 at Madina in Accra.
Afful is facing an additional charge of possessing a wrapper of dried leaves suspected to be Indian hemp without lawful authority.
During the trial at the court, presided over by Ali Baba, the accused person said he was in possession of the said handcuffs but denied knowledge of the dried leaves.
Delivering the sentence, the trial judge said he considered the fact that Afful had violated the law previously.
He accordingly ordered the return of the handcuffs to the Inspector-General of Police for advice.
Prosecuting, DSP Ernest Acheampong told the court that the complainants are policemen from the regional headquarters in Accra while the accused person is an unemployed resident of Pantan, a suburb of Accra.
He said on June 5, the complainants were on their normal night patrols duties around Madina and that at about 11:45pm the complainants received a distress call from a source that a young man, who posed as a police officer around Madina Fire Service was extorting monies from people.
The prosecutor stated that the police officers proceeded to the location and spotted Afful with one wrapper of dried leaves suspected to be Indian hemp.
DSP Acheampong said when the police conducted a search, they found police handcuffs and a piece of paper with the inscription, 'Police Pastor.
He said when the accused person was questioned further, he said the handcuffs were given to him by a friend, who is also a police officer at Madina.
He however failed to mention the name of the said police officer.
By Jeffrey De-Graft Johnson ([email protected])