Ghana's Garden And Flower Show Offers More Than Eye Candy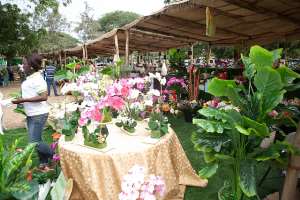 Lush green grass, cool shady acacia, frangipani and mango trees, flowerbeds alive with color and fragrance. Orchids resplendent in their exotic tropical beauty. No, I'm not talking about the Garden of Eden. These images are all around us, in a small but growing number of cultivated gardens in Ghana.
Creating an oasis in the concrete-covered city which is Accra, these gardens offer a sanctuary from the heat and dust of everyday life.
And there is more to these gardens than beauty. Backyards full of vegetable beds, peppers, okros, an abundance of fruit trees.the list goes on and on. Their owners can simply wake up in the morning, pick a couple ripe avocado, tomatoes, a sprig of cilantro, a bunch of spring onions, buy some kenkey and freshly fried fish, and voila!...they have a breakfast fit for kings.
And that's the central message Stratcomm Africa wants to share with its second annual Ghana Garden & Flower Show, to be held at the Efua Sutherland Children's Park Accra from 29 August - 8th September, 2014. The theme of this year's event is Gardening for Value: Health, Beauty, Jobs and Income.
Stratcomm's gardening initiative is aimed at promoting tourism, healthier and modern lifestyles, and also creating employment and income earning opportunities that support Ghana's growth and development. Their hope is educate the public about the beauty and benefits of gardens and gardening. It also seeks to create awareness about the commercial and psychological benefits of urban beautification and gardening.
A media launch for the show was held Tuesday, June 24, 2014 at the Department of Parks & Gardens at Cantonments in Accra. It was chaired by Mrs. Karen Hendrickson, co-author of 'Ghana's Beautiful Gardens' - a coffee table book showcasing some of the nation's loveliest home gardens.
Addressing the journalists, exhibitors and gardening enthusiasts in attendance, Florence Benson, the Managing Director of Floben's Creation - a landscaping and gardening business, made the point that Ghana had neglected gardening as an income generating venture. Addressing the gathering, she sought to inspire all listeners.
'Ghana has the right conditions to help it become a major exporter
but sadly, we seem to import many of the flowers we use, ' she stated. ' My hope is that soon, we can develop our abundant fertile lands to plant flowers for export. ''
I remember gardening in boarding school. It was typically a way of 'punishing' someone for some misdeed or misfortune. It was also a mandatory exercise for us, with the idea that somehow getting in touch with the earth and soil would instill some sense of the value of nature.
Sadly, it seemed to do the opposite. Gardening, for many, evokes the word 'drudge'. We think of sweating in the sweltering sun, labouring with blistered hands - as we were forced by our teachers and seniors to obey the house and school rules.
But now, I have the opportunity to think of gardening as life, sustenance, health and therapy. These days I as nurse my avocado pits in glass jars, carefully balanced on my window sill so that the plants can get the best sunlight. I feel a deep sense of satisfaction.
I watch my orchids like a hawk, literally willing and talking them into flowering with the amazing blooms they are capable of.
Speaking of blooms, Esther Cobbah, CEO of Stratcomm Africa, announced the arrival of 'Bloom' - a new Garden & Flower Magazine to be launched at the show. This quarterly magazine will be full of tips and advice on everything from buying a lawn mower to dealing with pests. It would also feature interviews with horticulturists and people in the industry.
The Garden and Flowers Show promises to have something for everyone. So I urge you to keep the date open. You will be surprised at what you can discover. See you there.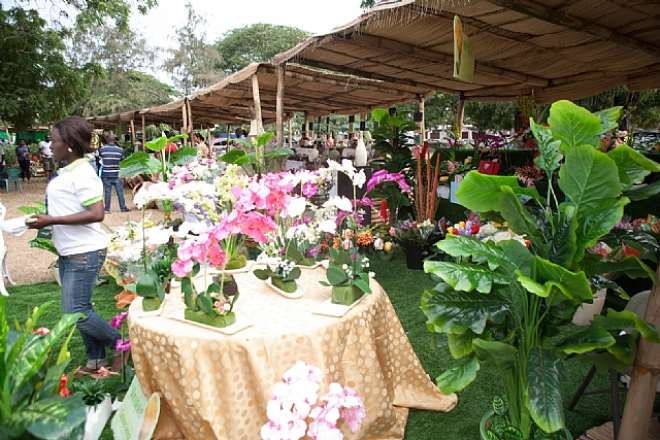 MG 9267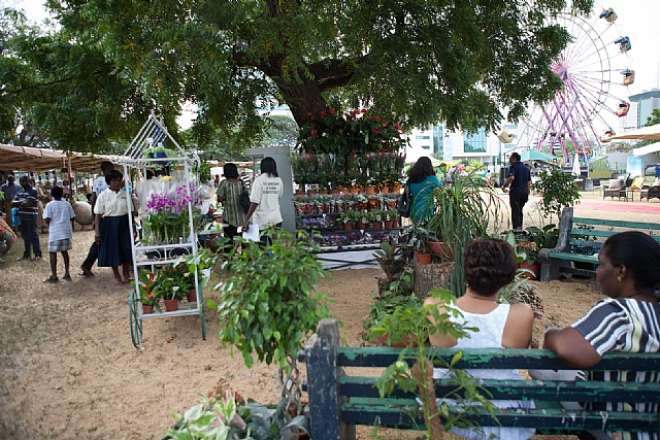 MG 9274