Church Of Pentecost Fights Gospel Musician Cecilia Marfo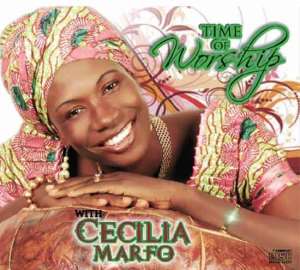 The Ashaiman Area of the Church of Pentecost has officially suspended gospel musician Cecilia Marfo and the husband brother clement Kofi Yeboah Adupidie Afienya from the church.
Cecilia Marfo was suspended for operating a prayer camp whiles the husband on the other hand was suspended for supporting his wife and defending her action in the media.
This was contained in a letter intercepted by these reporters(Fred Dzakpata and Daniel Asiedu)and copied to the chairman of the church of Pentecost Apostle Dr Opoku Onyinah, the General Secretary and The International Mission Director.
Beneath is the copy of the letter,
Our Ref: COP/ASH/061/2014
3rd July, 2014
Sister Cecilia Marfo and Brother Clement Kofi Yeboah Adupidie
Afienya
Beloved,
This is to remind you that for a period of time the Area Executive Committee met with you on the issue of you operating a private prayer camp / centre. The church was concerned about it because it is the policy of the church to train all existing prayer centre leaders to conform to the laws of Ghana, follow Scripture and to be very ethical in their operations.
In view of this, the church discourages the opening of new prayer centres and directs members with such propensities to operate in the church under the supervision of a pastor. The church is very concern about the operations of some individual camps and the mayhem that they cause. Against this backdrop the church had wanted to help you come under its coverage.
Nonetheless, all efforts to make you rescind your decision to go private and to agree to operate in the church was not heeded to. You also refused to meet the Area Executive Committee on some days agreed on. In view of this, the Area Presbytery has no option but to take the following measures in order to help you reconsider your decision.
1. You shall henceforth not be allowed to operate on any of the Church's platform
2. You are no more under the cover of the Church's umbrella
It is our prayer that the Lord will be with you and help you. You are always welcome to come back for a dialogue.
Yours in His Vineyard,
Original signed
N. A. O. Amegatcher (Apostle)
Area Head
cc. The Chairman, C. O. P., La-Accra
The General Secretary, C. O. P., La-Accra
The International Missions Director, C. O. P., La-Accra