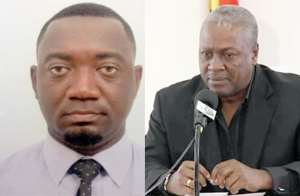 Edmund Kyei and President John Mahama
THE NEW Patriotic Party (NPP) Communications Director for Asokwa Constituency, Edmund Kyei, has stressed on the need for Ghanaians to vote out President Mahama and the NDC administration in 2016.
The outspoken NPP communicator stated that due to poor management, the NDC government had plunged the country into severe economic hardship, making life unbearable for the populace.
Speaking in an exclusive interview with DAILY GUIDE, Mr. Kyei slammed the NDC administration for failing to fulfil even a single of its numerous campaign promises made to the electorate in 2012.
The NPP man lamented that the ordinary Ghanaian was being bitten hard by severe economic hardship, blaming the Mahama-led administration for the bad management of the affairs of the country.
Mr. Kyei said he recently toured every nook and cranny of the Asokwa Constituency to observe how the people were faring, and what he discovered was not worth writing home about.
According to him, poverty was now the order of the day, adding that the erratic power supply and other bad policies by the NDC administration had collapsed the businesses of the masses.
The NPP Communications Director for Asokwa said taxes on imported goods had been increased and fuel prices are frequently increased 'and these have heightened the economic woes of the people.'
He said 'President Mahama and the NDC must go,' adding that even staunch NDC members were suffering and had regretted voting for the NDC in the 2012 general elections.
Mr. Kyei charged the electorate to vote out the NDC administration since it had become evident that the ruling government did not have the knowledge to address the problems confronting the country.
He stated that the NPP has the men who have the expertise to fix the weak and almost dying economy, urging the electorate to give the NPP their nod to push the country forward, come 2016.
On behalf of the people of Asokwa, Mr. Kyei commended Hon. Patricia Appiagyei, the Asokwa MP, for her efforts to develop the constituency, and urged her to sustain her good work.
 FROM I.F. Joe Awuah Jnr., Kumasi