Neglected Tropical Diseases Prevalent in Ghana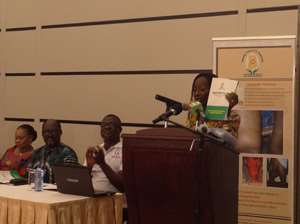 (From right) Sherry Ayittey holding the Neglected Tropical Diseases Master Plan, Dr Nana Kwadwo Biritwum and Dr Joyce Aryee (far left) at the event
Debilitating and overlooked tropical diseases are affecting every district in Ghana, Dr Nana Kwadwo Biritwum, Programmes Manager of Neglected Tropical Diseases (NTD), has said.
He stated that the country is burdened with 10 out of the 17 NTDs mostly found in sub-Saharan Africa caused by parasitic and bacterial infections.
'Each region of this country has at least three of these diseases and they are mostly found in rural and urban poor communities,' he said.
Dr Biritwum gave this disclosure at the launch of the Mass Drug Administration and Neglected Tropical Diseases Master Plan put in place to address the problem.
The plan spells out the vision; mission and strategic direction of the NTD programme of the Ghana Health Service based on the five pillars of the health sector.
It is also aligned to the World Health Organisation AFRO strategy for NTD Control Africa.
The category of 'Neglected Tropical Diseases' (NTD), Dr Biritwum said, is a group of 17 that affects over 1.4 billion people worldwide yet are not often talked about.
He said a special focus of the programmes would be on lymphatic filariasis (elephantiasis), onchocerciasis, trachoma, intestinal worms and schistosomiasis, because every district of Ghana has at least three of those five diseases.
Sherry Ayittey, Minister of Health, said children, women and those of lower socio-economic status were the most vulnerable.
'Symptoms of these diseases, such as anaemia, weakness or even blindness can result in children not being able to go to school and adults not being able to work, which will further create a cycle of poverty,' she said.
Ms Ayittey explained that the Master Plan would provide communities with a mobile health facility and would assign nurses to every district in order to treat, prevent and control the diseases.
Dr Joyce Aryee, Ghana NTD Ambassador, said that 'each of us can be a victim' and explains that mosquitoes and flies are the carriers of many of those diseases.
'There are vectors all around us,' she warned.
Main preventative measures include good hygiene, preventing children from swimming in rivers and making use of treated mosquito nets.
Dr Aryee hopes for a future where the diseases would 'no longer be called neglected, but rather be called eliminated.'
By Jamila A. Okertchiri & Sarah Jakubowski