2 July 2014
|
General News
Lom Fm/Farm Radio International Distributes Radio Sets To Farmers In Bunkpurugu/Yunyoo District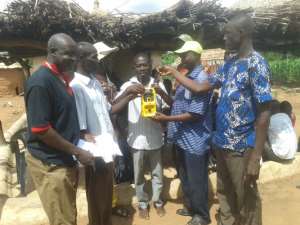 As part of the commitment of Farm Radio International to support the ongoing education on climate change adaptation supported by GIZ and MOFA-Ghana , Lom fm in Bunkpurugu took delivery of four (4) Multi Band Radio sets and distributed to its listener groups in Jilik community and Naniik.
Each of the communities took two (2) radio sets. The radio sets are meant for the groups in these communities to contribute to the program. Every group is made up of twenty (20) members with women involvement, and therefore each group to a radio sets.
The Multi Band radio set is meant for the groups to use and participates into the live radio broadcasting/discussing of the KPAKORA YOO program on lom fm. The climate change adaptation program we are told has so far made farmers in these two communities to systematically adapt setting skills in their farms.
Reports indicate that most farmers across the district is benefiting positively since the climate change adaptation education started at Lom FM.
The Kpakora Yoo program is aired every Sunday, 7:00pm to 8:00pm in Moar (Bimoba) and on Monday 8:00pm to 9:00pm in Komba/Mampruri (Konkombas /Mamprusis), this segment allows farmers opinion and voiced to be heard. Expert from Mofa and other institutions and personalities are invited or called during broadcasting to contribute to the program.
In an interview with Mr. Mambora Jinjeri Nambor, a farmer and a business man based in Bunkpurugu said until the start of this program, he didn't know setting things. He said and I quote, you know, I used to burn weeds and other things including small tress during my land preparations, but through this program I have come to understand that, the best thing to do during land preparation is to gather all weeds and dig a small pit and put them there which would turn to serve as manure for me.
This has not only reduce the number of fertilizer I would have bought, but made my crops grow so fast and well , this to me means that, the natural or local manure could do better than this Whitman man thing we call fertilizer.
The Multi Band radio set you see in the picture attached can record live programs/voices and any sound , it has two(2) solar source of charging , it has place for electricity charging , it can be used as touch light , it can be used to charge phones and finally play its role as a radio sets.
The pictures you see below are the MOFA official led by the district Director of Agric -Bunkpurugu/Yunyoo and Staff of Lom Fm with some community members (listener groups) during the district on Saturday, 28th June, 2014.
Earlier on Thursday 26th, June, 2014. A Team from Farm Radio International, Mr. Emmanuel Appiah and Abena Dansua visited the two communities (Naniik and Jilik) to find out their views about the broadcast of the program. The main purpose of the visit was to know from farmers if they have some additions, subtractions and whether the broadcast has been impactible to them. Mr. General, Mr. Samuel Kankwah and Miss Patience Banaba were there from Lom FM.