I Haven't Resigned – Says Mahama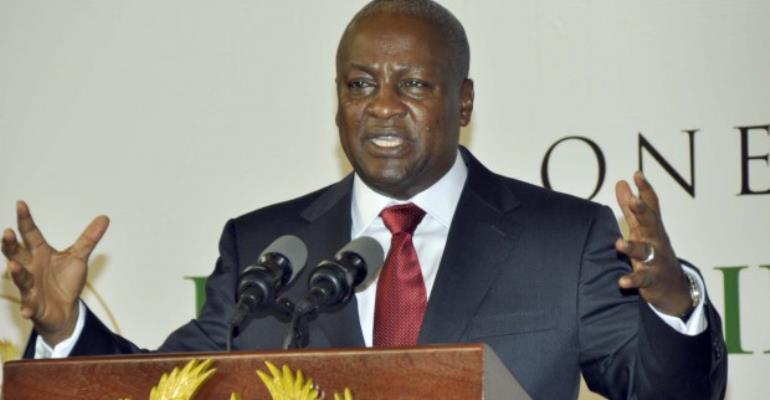 A purported resignation of President John Dramani Mahama has prompted a swift denial from the Presidency.
This was not before the hoax sent uncontrollable ripples, and shivers down the spines of those who heard it last Monday evening.
A copy of the fake letter of resignation, which was full of grammatical errors and without administrative and secretarial references that normally accompany such official correspondences, read, 'Following recent bouts about the state of the economy, and my inability to effect positive change and significant improvement, I hereby tender my resignation from the office of the president, effective immediately. I trust that arrangements for the change of leadership in accordance with the constitution will be made as speedily as possible.'
The statement was scripted on a letterhead resembling that of the office of the president with the coat of arms boldly embossed on it. The letter, which was purported to have been issued and signed by President Mahama, was posted on various social media outlets, attracting a lot of commentary.
While some described it as a prank, others took it seriously. This was what provoked the issuance of a statement from government denying the speculations.
The government statement, which was issued and signed by Deputy Information and Media Relations Minister Felix Kwakye Ofosu, noted that 'the attention of government has been drawn to a spurious letter making the rounds on social media in which President Mahama is portrayed as having tendered in his resignation from the Office of President of the Republic of Ghana.
'Government wishes to state unequivocally that the said letter is a total fabrication and the product of criminal machinations by faceless elements with a view to sowing seeds of panic, anxiety and chaos within the Ghanaian society,' it emphasised.
In view of the gravity of the matter, especially the clear case of forgery of the President's signature, the statement indicated, 'Government has formally requested the Criminal Investigations Department of the Ghana Police Service to conduct thorough investigations into the matter and bring to book the masterminds behind this reprehensible act.'
This, it said, was because 'President John Dramani Mahama remains eternally committed to abiding by the oath that he swore before them (Ghanaians) to serve them diligently with the highest ethical and moral standards' and that 'President Mahama continues to discharge his responsibilities as President of the Republic of Ghana and Commander-in-Chief of the Ghana Armed forces.
'He is at the forefront of efforts to bring an improvement in the quality of life of the people of this country,' it noted, while encouraging Ghanaians to disregard the purported resignation letter and its contents.
By Charles Takyi-Boadu