Man Boils Daughter's Hand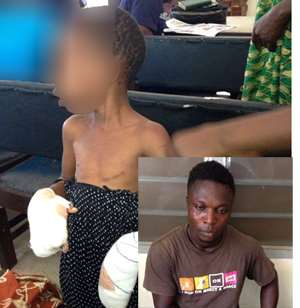 The suspect, Jacob Kuli, a truck pusher and resident of Ashaiman, was reported to have initially assaulted the victim (name withheld for ethical reason) with a cane, leaving some bruises all over her body for allegedly stealing fish from an okro soup.
A police source at the Ashaiman Divisional DOVVSU confirmed the arrest of Jacob Kuli to DAILY GUIDE.
The culprit has been charged with two counts of child assault contrary to Section 248(A) as amended by Act 15 of 2005 CAP 87 of the Laws of Ghana.
According to information, Jacob, on June 25, 2014, burnt both hands of his eight-year-old daughter – a Kindergarten pupil – using hot water after caning her helplessly.
He was apprehended on June 26, 2014 by the Ashaiman police where he was formerly arrested and charged.
According to the police, the suspect returned from work in the evening and discovered that the victim had stolen fish from his okro soup which was meant for supper.
This angered Jacob who allegedly prepared hot water and later dipped the hands of his daughter into the pot, instantly peeling off the victim's skin after beating her at dawn.
Witness in the matter, a certain Joseph Adjetey Adei who doubles as landlord of Jacob's house, visited the house at about 6:00 am when he saw the victim with cane marks all over her body and burns on both hands.
Adjetey enquired from the victim and she disclosed the ordeal her father had taken her through for taking a piece of fish from his soup and eating it.
A complaint was immediately lodged at the Ashaiman Divisional DOVVSU where police medical report form was issued for the victim to go to hospital for examination. The medical report was duly received by the police and investigations into the matter commenced, leading to the arrest of Kuli.
Jacob Kuli is to appear in court soon.
From Vincent Kubi, Ashaiman