The Enquiry Into The Brazil Disaster Must Be Held In Public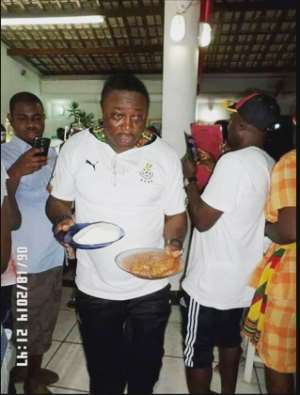 So much heart-ache has been inflicted on the Ghanaian public by the failure of the Black Stars to advance from the Group Stage to the Quarter-Finals that nothing less than a public enquiry should be held to find out how the officials sent to service the Black Stars performed - or did not perform - their duties.
The call for a public enquiry has nothing to do with a desire to humiliate the officials. Humiliating them will not enable us to go back to Brazil to beat Portugal or the United States. But it will prevent our having to live through the nightmare of the past fortnight again, in future.
You see, there are some people who simply lack common sense and this should be publicly demonstrated so that others can learn that our complex brain matter was not given to us for nothing.
Now, everyone knows how agonising it was for us to lose that match against Uruguay in South Africa in 2010. One would have thought that having undergone that horrendous experience, our football officials would say to themselves: 'Even when we do not make mistakes, fate can intervene to defeat us. Well, we cannot control fate. But there are some things that are under our control. So let us do those things so well, that even if fate intervenes again, our people would at least understand that, like the evil Suarez incident, victory was 'beyond our means'. (And maybe, fate will eventually punish our tormentor, whoever it is, just like it has finally punished Suarez for us, in Brazil!)
Is that such a difficult notion to understand? I would have thought not. Yet look at what happened.
Money was spent on sending a huge contingent of officials to Brazil, some with their relatives and friends. But money is not water. Hotels that were supposed to be habitable proved to contain rooms that were sometimes like a 'swimming pool.'
Everyone had read stories about how Brazil was finding it difficult to complete even THE STADIUMS on which the tournament was going to be played. So why couldn't our numerous officials go and have a look at the hotels into which our players had been booked, so as to short-circuit any problems that they might harbour? You and I would not, I believe, expose our families to potential difficulties in a foreign country. How much more the collective
jewellery amongst our nation's sporting galaxy of stars?
Again: does anyone actually exist who does not know that football stars are among the vainest creatures on earth?
In the UK, the lifestyle of a football star is synonymous with 'bling' - huge houses, expensive Bentley or Ferrari or Maserati cars, and, of course, numerous wives and girl-friends ( known to the tabloid press as 'WAGS'), some of whom do not scruple to 'kiss-and-tell' mostly-invented stories, about the footballers who lavish luxuries on them.
In other words, the average ego /common sense ratio of some football stars can easily
be calculated by a two-year-old child. So when you put 23 of them together in any one place, you must expect that you have a mini-Armageddon in your hands, waiting to implode. Me, if you ask me to manage even three of them, I shall thank you and go back to look for the old typewriter on which I learnt how not to type. But there are braver people than me who, without being asked by anyone, sought SEEK ELECTION into jobs which would occasionally place them in the position of managing managing 23 or more of these peacocks! Have you ever seen a peacock that performs in a circus? No - peacocks only perform when they want to! So, if you want performance from them, treat them as peacocks.
But some people can take on a job like that and then go and sit in business class in an aeroplane, with wife and children, and put the peacocks in economy class! Yipes?
They can put the peacocks on a flight that obliges them to sit idly at an airport for 9 hours, waiting for a connection? They can book them on flights that manage to leave their luggage behind? 'My football boots! Without them, how can I train?'
Worst of all, these officials, like almost every official in Ghana these days, LIE to them. You forget that you have had money problems with the footballers before! In South Africa -- twice - during the World Cup and during the Africa Cup of Nations.
You forget that it was money that nearly stalled the match with Egypt in Kumase. Not only that - knowing that money is the be-all of modern football, you nevertheless leave your players in doubt about how you will manage the payments arising out of the Brazil tournament. Their money never arrives as promised. Yet you have money to fly in 500 'supporters'! . Today, you say their money is being 'processed' (I love that word!) by the banks. Tomorrow you say it is the sponsors. The next day you change the story to FIFA. Meanwhile, you suggest that the Ministry of Youth and Sports, or the presidency, or both, are also involved.
Yieee! How can this be? You have hotheads in the group. You have rivalries, even enmities. All par for the course in any football club, let alone a national side. But you are also fielding a Ghanaian coach for the first time. I mean, HOW MANY PROBLEMS do you want to be placed on your head before you sit up, for crying out loud?
So you go to Brazil. And things begin to build up very quickly indeed. There are published rumours that some GFA officials seek to benefit from 'match-fixing'. In the tournament itself, one inexplicable mistake - and Ghana is beaten by the USA. Grave mistakes made in an atmosphere of allegations about match-fixing?
Imagination, fuelled by natural frustration and hurt pride , bring everything into the open. Matters that had apparently been settled are reopened.
In desperation, the President of the Republic, who is busy interacting with other African heads of state in Equatorial Guinea, orders that $3m should be flown by chartered aircraft to pay the players. In the euphoria of the moment, one member of your delegation lets this out to the public. The international press picks it up. And Ghana, which has been basking in the glory of having been able to draw with Germany - even leading them at one stage - suddenly becomes the laughing-stock of the world.
Meanwhile, no discussion has apparently taken place with the Brazilian Ministry of Foreign Affairs, about the modalities of importing so much cash into Brazil! Brazil is embarrassed. FIFA is embarrassed!
Ao! mini sane ner? (What kind of mess is this?)
But, of course, our officials are not worried. Our President is their paddy-man: he will only reassign those he thinks are inefficient, not dismiss them! Besides, there 500 party foot-soldiers, who will bear witness to the effect that everything went absolutely well in Brazil (except that the journalists were bribed to send sensational stories!) Ministers will tell the President that it was all caused by the 'bad boys', especially Sulley Muntari and Kevin Prince Boateng. 'They are terribly rich so they don't respect anybody!' the Ministers will say to the President. As if no player can express his opinion, like anyone else.
I was once friendly with someone who used to be asked to secretly investigate economic crimes during the bad kalabule days of the nineteen-seventies. After he had uncovered two or three instances of corruption and seen nothing done about his reports, he stopped taking requests for investigations seriously. He used to say, 'Ho - as for these loudly-touted investigations, ennkosi hwee!' (Nothing will come of them!)
And because nothing came of them, rumours about what was happening grew by leaps and bounds. No-one was present when any woman was asked to bring her 'bottom' to come and collect a VW Golf car. ['Fa wo to begye!] But many people believed such rumours.
Import licences - ditto.
The purchase of crude oil - same old story.
Allocation of consumer goods from factories -duka daaya! (same thing)
Even the selling of cocoa abroad was supposed to be tainted with malfeasance.
People just shrugged and said, 'As for rumours, we shall monger!''
Eventually, the atmosphere became so rank with talk of greed and the resentment it engenders that we had the most frightening explosion ever to take place in this country.
Please everyone: we have a chance, with this Brazilian football disaster, to prove that it isn't everything that ends in 'ennkosi hwee!' (so to speak).
Let us grab that chance.
With both hands.