July: Ghana's Month Of Trials, Can We Survive It?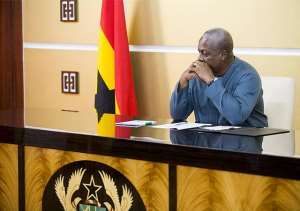 The Month of July which is also the month in which Ghana attained its Republican Status begins tomorrow but so will many alarming and anxiety laden propositions from the Government and its agencies also begin.
The 17.5 per cent Value Added Tax (VAT) on all fee paying Financial Services kicks in tomorrow. Unless the Government backs down on its proposal, with effect from tomorrow the following services will all attract VAT. BANK DRAFT (PAYMENT ORDER), STOPPED CHEQUES RETURNED CHEQUES, LOAN PROCESSING OR RENEWAL REVOLVING ACCEPTANCE CREDIT, ARRANGEMENT FEE FOR FACILITIES, STATEMENT OF ACCOUNTS, STATEMENT OF BALANCE, CLEARING OF CHEQUES, CHEQUES COLLECTION, STANDING ORDERS, CHECK BOOKS,TRANFERS, CLOSURE OF ACCOUNTS many other such services.
There have been attempts to placate people that the new 17.5 per cent VAT on financial services will not affect ordinary customers; that is simply not true. So if you are a bank customer get ready for the month of July because you will pay more.
In this same month of July the new utility tariffs will begin. Electricity is gone up by 12 per cent and water by 6 per cent. Fuel prices are to go up by 20 per cent. What that means is that a gallon of petrol will now sell at GHc15.00 or C150,000 old cedis. Already the country has been hit by fuel shortages and there are queues everywhere because the Government owes bulk suppliers of the product. It took a private businessman to inform Ghanaians about the impending fuel shortage.
The government itself did not say anything maybe because the big men of the National petroleum Company (NPA) and the Ghana National Petroleum Corporation (GNPC) are all in Brazil for the world cup. Even at GHc15.00 per gallon the Government says it is still subsidizing. Can someone tell us how much we will be paying if Government was not subsidizing? By the way how much does a barrel of crude oil go for now? Or don't we import crude oil anymore?
Again in this same month of July, transport fares are expected to go up by 20 per cent. The usual haggling among commuters and transport owners over the new fares will begin. Prices of food and all other products will go up and the Government of Ghana per the Homegrown Policy Document presented to the International Monetary Fund (IMF) is expected to reduce the wage bill and not to increase salaries. So then welcome to the month of July and a Happy Republic Day in advance to you.