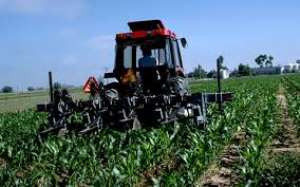 As the African Union summit takes place in Malabo, Equatorial Guinea, the Africa Progress Panel urges African leaders to invest at least 10 percent of their national budgets in agriculture, fulfilling a pledge first made in Maputo in 2003. So far few countries have achieved the 10 percent target.
With about two thirds of all Africans depending on agriculture for their livelihoods, boosting agriculture is an essential strategy to reduce poverty and inequality, allowing more people to benefit from Africa's impressive economic growth.
'If we want to extend the recent economic successes of the continent to the vast majority of Africa's inhabitants, then we must end the neglect of our farming and fishing communities,' said Kofi Annan, Chair of the Africa Progress Panel.
This year's Africa Progress Report Grain, Fish, Money: Financing Africa's green and blue revolutions finds that agriculture will allow Africa to capture the commercial and economic opportunity of the world's rapidly growing demand for food, which is expected to double by 2050.
'The world's burgeoning population needs to be fed and Africa, our continent, is well positioned to do so. We have enough resources to feed not just ourselves but other regions too. We must seize this opportunity now,' Mr Annan said, adding that 'Africa's productivity levels, already beginning to increase, could easily double within five years'.
This year's Africa Progress Report shows that transforming the continent's agriculture requires that smallholder farmers have better access to both financial services, including loans and insurance, and infrastructure.
Mr Annan indicated that 'unleashing Africa's green revolution may seem like an uphill battle, but several countries have begun the journey'. Innovative technology developed by young Africans provides another opportunity to improve smallholder agriculture. Mr Annan said 'impressive innovation and smart government policies are changing age-old farming ways.'
In countries, such as Nigeria, Ethiopia, and Rwanda, government efforts to boost their agricultural sectors are already bearing fruit, with rapid agricultural growth driving their national economies.
'We have to significantly boost our agriculture and fisheries, which together provide livelihoods for roughly two-thirds of all Africans,' Mr Annan said.
'As the Africa Progress Report 2014 lays out in telling detail, agriculture can be the engine that drives the kind of growth that Africa needs; growth that benefit everyone including the rural poor... Africa will come into its own as a global food powerhouse', said Linah Mohohlo, governor of the Central Bank of Botswana and member of the Africa Progress Panel.
Chaired by Kofi Annan, former Secretary-General of the United Nations, the ten-member Africa Progress Panel advocates at the highest levels for equitable and sustainable development in Africa. The Panel releases its flagship publication, the Africa Progress Report, every year in May.