Police To Auction Accident Vehicles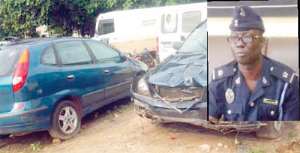 S ome of the damaged vehicles. INSET: Supt Peter Ofori Donkor
THE TAKORADI district Police Command has decided to collaborate with the State Transport Corporation (STC) to value some accident vehicles that have been at the Takoradi Central Police Station for many years and subsequently auction them.
This follows the refusal by owners of such vehicles to retrieve their property.
According to the police, when a vehicle is involved in an accident, it is either towed to a testing office at the police station or the officer would be sent to the scene to test the vehicle in the presence of the car owners.
However, the owners of about 12 vehicles, which were involved in accidents and towed to the Takoradi Central police station for testing, have allegedly refused to retrieve their cars.
Supt. Peter Ofori Donkor, Takoradi District Police Commander, who disclosed this to DAILY GUIDE in an interview, remarked that his  outfit had decided to auction the vehicles because they were not connected to court cases.
He explained that the vehicles, which were connected to court cases, could not be auctioned by the police.
The Takoradi District Police Commander noted that when he took office about two months ago, he realized that there were many accident vehicles in the precinct of the police station.
'I asked the MTTU chief inspector about it and he told me that he had communicated with the owners of the accident cars to come for them but they were not coming.'
'I asked some of the media houses to inform the owners to come for their vehicles, otherwise the cars will be auctioned to the general public.
Supt Ofori Donkor indicated that his outfit would inform officials of STC to rate the vehicles, which would take about two weeks before they are auctioned to the public.
From Emmanuel opoku, Takoradi