'Terrorist plague' tops agenda at African Union summit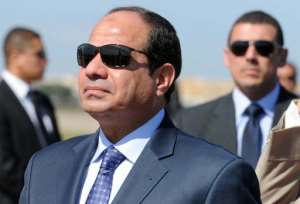 Egypt's president Abdel Fattah al-Sisi reviews troops upon his arrival at Houari-Boumediene International Airport on June 25, 2014 in Algiers. By Farouk Batiche (AFP/File)
Malabo (Equatorial Guinea) (AFP) - African leaders gathered Thursday for a summit dominated by fears over a rise in extremist groups sowing terror across the continent.
From the Sahel to Nigeria, central and east Africa, armed Islamist groups carry out attacks, kidnappings and chilling massacres on a near-daily basis on the continent.
This threat is increasingly drifting across porous borders, heard the summit in Malabo, also attended by UN Secretary General Ban Ki-moon who called for a "rapidly operational peace and security structure".
"Africa is threatened by cross-border terrorism," said Egyptian President Abdel Fattah al-Sisi, who took to the podium to thunderous applause as he marked his country's comeback to continental politics in his first foreign trip.
"This common threat demands that we reinforce our cooperation," said Sisi, calling on his peers to "firmly face up to this plague to preserve the dignity of our people and economies."
Egypt was suspended from the AU bloc after Sisi toppled Islamist president Mohamed Morsi while he was army chief last July.
The two-day summit in Equatorial Guinea, sub-Saharan Africa's third largest oil producer, has as its official theme "Agriculture and Food Security."
However it has been hard to ignore the barrage of extremist attacks, which threaten to overshadow civil wars in Sudan and the Central African Republic.
In Nigeria's capital at least 21 people died in a bombing blamed on Islamist group Boko Haram on Wednesday, adding to over 2,000 killed this year in an insurgency which the government has been unable to curb.
Boko Haram's five-year terror campaign shot to worldwide attention after they kidnapped more than 200 schoolgirls in April.
The militants have also raised alarm in neighbouring Cameroon where they kidnapped 10 Chinese road workers in May, prompting the government to dispatch 3,000 troops to its porous border with Nigeria.
In the horn of Africa Somalia's Shebab rebels have launched attacks in Kenya, Uganda and Djibouti to punish them for sending troops to an AU force fighting its militants.
In September last year the group carried out its most high-profile attack to date -- a suicide commando assault on Nairobi's Westgate shopping mall that left at least 67 dead.
And in the Sahel, Mali is still recovering from the Islamist takeover of half the country and Ban called on armed groups there to "negotiate a lasting peace."
- Africa facing 'new threats' -
"These are new threats," a French diplomat told AFP on the sidelines of the summit.
"Before African crises were linked to coups d'etat, rebellions which could be fought with conventional armies. The security apparatus is not complex enough to deal with terrorism."
Leaders appear powerless in the face of the extremist juggernaut.
An African diplomat, speaking on condition of anonymity, said despite these threats, security cooperation between states was still in its infancy.
"Co-ordination between states is slow because they aren't all on the same wavelength. Some countries don't realise that the security question affects them too, or prefer to avoid turning their back to jihadists."
The 54-nation AU's current chief, Mauritanian President Mohamed Ould Abdel Aziz, has urged his peers to put in place "effective mechanisms" to ensure peace.
The bloc's peace and security council has long floated plans to create an African rapid response force to step in on erupting crises which more often than not in recent years have been stamped out by western nations intervening on the continent.
But implementation of this force remains chaotic, mostly for financial reasons, and it is now expected to be in place by 2015.
France has sent thousands of troops to curb violence in former colonies Mali and Central African Republic.